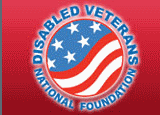 Washington, DC (PRWEB) November 20, 2012
The Disabled Veterans National Foundation, a non-profit veterans service organization that focuses on helping men and women who serve and return home wounded or sick after defending our safety and our freedom, wants to raise awareness to remember our selfless veterans on this Thanksgiving holiday.
Originally, Thanksgiving was a time to celebrate the bountiful local harvest of the year for some of our first ancestors. Today, for many of us, Thanksgiving is a time to stop, rest and enjoy spending time with family, friends, and of course, appreciate the customary foods and traditions.
However, thousands of soldiers will celebrate Thanksgiving in places such as Afghanistan, Iraq, Japan, South Korea or on a ship deployed at sea or port. While most Americans enjoy the holiday at home spending time with family and friends, it is important to remember that the men and women who defend us will still be in uniform, away from their loved ones, and possibly in harm's way. DVNF urges you to think of our troops and the veterans who fought to give us the ultimate blessing of freedom this Thanksgiving.
"Throughout this coming holiday season, we hope that there is a heightened awareness by Americans to remember all of our veterans and their families," said Precilla Wilkewitz, President of DVNF. "With so many soldiers returning home from conflicts overseas, these individuals will have many needs that we should all recognize, and strive to assist with in any way that we can."
As a reminder, the DVNF Scholarship deadline has been extended to December 1st. Due to the warm response to the program, and applications still coming in for the $1,000 scholarship, DVNF wants to make sure everyone has ample time to submit their scholarship application. The recipients will have checks mailed directly to the accredited institution of their choice at the beginning of January prior to the start of the spring semester.