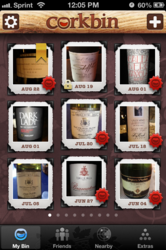 Gorgeous design, simple user interface, perfect wine logging app while out and about (fast data entry and location tracking). A model wine app. - ★★★★★ - by Rick Breslin, CEO of Hello Vino
New York, NY (PRWEB) November 20, 2012
Ever enjoyed a brilliant bottle of wine while out with friends but completely forgotten its name by the time you get to the wine shop? Download Corkbin for iPhone or Android (it's free) and never lose track of another bottle.
Like all the best apps, it's brilliantly simple and fun to use. Just take a photo of the wine label with a smartphone, add a brief description, and it goes into a wine lover's digital wine collection. Using image recognition technology, Corkbin will automatically recognizes the name the wine. So next time at the wine shop, just look up that wine inside Corkbin. Prefer to shop online? Corkbin integrates with e-tailer Wine.com, making it easy to find that awesome wine with the help of wine.com and wine-searcher.
For those who frequent wine caves with spotty data coverage, Corkbin operates in offline mode. Wines added offline are synchronized once data connectivity becomes available. Simply open Corkbin and the app will take care of the rest.
Wine lovers can also see what other users have been uncorking, follow their 'uncorks' and pick up some tips about other wines. It can even send the pictures of that memorable wine as physical postcards! There is a host of other useful features. Corkbin includes a handy glossary of wine terms, so that the wine lover can decode wine descriptors like 'bouquet' and 'cuvée'.
Wine lovers can download Corkbin for free from the iTunes App Store or on Google Play.
New Features:

Offline mode – add wines during a cellar tasting or when travelling abroad where data connection may be unavailable.
Wine label recognition – automatically detects the name of the wine added to Corkbin.
Online purchasing – integration with Wine.com and Wine-Searcher.
Wine postagram – send wine postcards through Sincerely.com. (iOS only)
Graphical enhancements.
To download the app:
Apple App Store - http://bit.ly/corkbinIOS
Google Play - http://bit.ly/corkbinAndroid
Note to editors:
Corkbin, Inc was founded in 2010 by a team of wine lovers aiming to simplify the way consumers discover and buy wines
The latest version is 2.5 (iOS) / 2.1 (Android)
Corkbin has averaged a 4.2/5 score from 120 reviews in Google Play and 4/5 from 216 reviews in Apple App Store.
Corkbin partners with Hello Vino, IQ Engines, Sincerely, Wine.com and Wine-Searcher to deliver pairing, image recognition, postagram and online shopping capabilities.