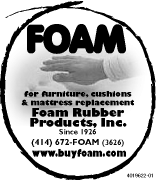 (PRWEB) November 20, 2012
BuyFoam, a Milwaukee area foam wholesale shop, is offering furniture and mattress refurbishing services to update homes before the holidays.
The holiday season is just around the corner, and before family and friends come into town, avoid the extra cost of buying new furniture. Refurbish old chair cushions or a sleeper sofa mattresses using foam cushions from BuyFoam.
Buy Foam will cut foam cushions to any shape and size and have new mattresses and new chair cushions done before the holiday party season.
"We have the special technology to create any shape and size foam pieces to fit any piece of furniture," says John Komas, owner of BuyFoam.
Founded in 1926, Wisconsin-based BuyFoam began as a family-owned upholstery shop. Today, BuyFoam specializes in custom cut foam to fit standard-sized cushions to custom projects.
"We cut to size any piece of foam," Komas said. "We can personalize any mattress to your size and any shape."
BuyFoam stocks 15 different types of foam at all times, including their nationally advertised XL-foam series which lasts the lifetime of the fabric it is covering.
BuyFoam's e-commerce department ships to individuals all over the country.
For more information, informational videos and to place an order, visit http://www.buyfoam.com or call (866) 672-3626.
About BuyFoam
BuyFoam opened its doors as a wholesale upholstery business in Wisconsin in 1926. Since then, the company has expanded its offerings, stocking 15 different types of foam and cutting custom pieces for individual household projects. A member of the Better Business Bureau, BuyFoam's products are made in America and they ship orders large and small across the United States. For more information, visit http://www.buyfoam.com.