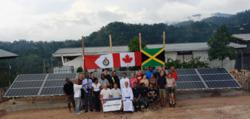 Toronto, ON (PRWEB) November 20, 2012
An orphanage in a remote location in Jamaica has seen a marked improvement in their access to electricity thanks to a group of York Region volunteers who recently installed a new solar PV panel system at the Beatitudes Home located near the island's capital city of Kingston.
Prior to this, the orphanage had only one hour of electricity per day provided by a diesel generator.
Officers with the York Regional Police Department and representatives of VIRTUAL Engineers, 21 volunteers in all from the Greater Toronto Area, travelled to Jamaica at their own expense to install the 5kW solar PV system.
The system will significantly improve the lives and living conditions of the children and the Missionaries of the Poor brothers who care for them. The solar generated electricity is providing light, radio music and refrigeration to preserve food and medical supplies.
Eclipsall Energy Corp responds to situations where their products and technology can help the underprivileged particularly in countries where that need is greatest. In this case, Eclipsall manufactured and donated the solar panels that power the 5kW system and provided support and training to the officers on the handling and installation of the PV panels.
Off grid solar systems can provide electricity in the most remote locations and dramatically improve people's lives by providing power that they would never otherwise have.
The solar system installation at the Beatitudes Home for physically and mentally disabled children is in memory of York Regional Police Constable Davis Ahlowalia. In 2004, he led an initiative to adopt a Missionaries of the Poor orphanage in Kingston, Jamaica. Davis's efforts created a partnership that assisted in providing much needed food, money and other charitable donations. In 2007, at the age of 28, Davis Ahlowalia lost his life in a motor vehicle collision.
Had he lived, Davis most certainly would have been an enthusiastic supporter of this initiative which brought electricity and a much improved life style to the children and caregivers of the Beatitudes Home.