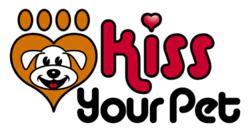 100% Organic, No Alcohol and All Natural Ingredients, Made in the USA
Phoenix, AZ (PRWEB) November 20, 2012
Maintaining oral health is essential to keeping your pet happy and healthy over the years, and according to the American Veterinary Dental Society, 80% of dogs show signs of dental disease by the age of 3. Kiss Your Pet was developed to help pet owners provide proper at-home dental care to their pets between vet visits. Dentist recommended and veterinarian approved, Kiss Your Pet is a convenient oral spray that promotes optimal dental health in pets.
Kiss Your Pet has recently launched their new alcohol-free formula made from 100% organic, natural ingredients. While alcohol has been used in mouthwashes and dental products in the past, research suggests that alcohol removes good bacteria as well as bad bacteria, so an alcohol-free, natural pet dental spray that targets bad bacteria is a more effective oral care product than those containing alcohol.
"We are so excited to launch this product," says Jason Ewing "Through our extensive research; we found that pet owners and their pets are in need of better and more convenient at-home dental care options. With Kiss Your Pet, pet owners can help their furry friends maintain great oral health throughout their lifetime. We wanted to make it simple, quick and effective for pet owners to care for their pets' teeth, even if they're always on the go."
Since poor oral health can also lead to numerous health related conditions such as heart attack, stroke, diabetes, etc., at-home dental care is becoming increasingly more important. Kiss Your Pet is formulated to prevent dental disease and to promote a cleaner, fresher, and ultimately, healthier mouth. This solution is not only giving pet owners the convenient, safe, and effective at-home dental care treatment they've been looking for, but it is also a great alternative to costly dental cleanings by a veterinarian. While the spray should not replace regular check-ups or cleanings, Kiss Your Pet is proven to reduce plaque and tartar buildup, as well as whiten teeth, freshen breath, and prevent dental disease.
With our fast-acting formula, pet owners will immediately notice a difference in their pet's breath and teeth. A few daily sprays is enough to help keep plaque and tartar at bay and improve overall oral health. Within the first few weeks, pet owners have noticed a dramatic difference in their pet's dental health, appearance, and disposition. This safe, gentle formula has no side effects.
Kiss Your Pet is 100% organic, making this formula safe for pets of all ages, sizes, and breeds. The environmentally friendly, all natural spray can be applied once a day to produce a noticeable difference in your pet's dental health!
About Kiss Your Pet
Kiss Your Pet is an all-natural, alcohol-free pet oral care spray that keeps animals' teeth and gums clean and healthy. With a few sprays of Kiss Your Pet daily, pets experience fresher breath, whiter teeth, and a cleaner, healthier mouth. Convenient, safe, and gentle, Kiss Your Pet is the perfect at-home dental care product for dogs and cats of all ages! With a delicious mint flavor, our spray-on formula is 100% organic, veterinarian recommended, and pet approved!
To order Kiss Your Pet, visit http://www.kissyourpet.com or call 1-(800)351-1312 today!