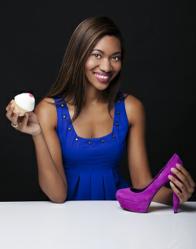 Cupcake Stiletto Where Style Is Sweet
Los Angeles, CA (PRWEB) November 21, 2012
This past Saturday Cupcake Stiletto participated in the Shoreline Ambulance and Durango Boots event Art N Life for the winter celebration of fashion, art and film presented by the Young Engineers of Style in Los Angeles at Thomas Paul Fine Art 7270 Beverly Blvd Los Angeles, CA 90036.
Cupcake Stiletto satisfied the sweet style of any guests who tried one of their mini cupcakes that were on display at the event. There were a variety of their organic, and freshly baked cupcakes available for guests from a few of their collections including Basic Collection favorites Vanilla Bean, and Chocolate Ganache, Fall Spice collection Caramel Apple, and from the Sweet Culture collection Italian Lemon Gelato.
The cupcakes were a perfect fit as mini dessert after the passed h'dourveres provided by Celebrity Chef Ameera including her mini burgers, and lobster mac and cheese. Clients of Chef Ameera include celebrities such as Lance Gross, Keri Hilson, Lamar Odom, Regina King, Stevie Wonder, Rick Fox, Eliza Dushku, Lil' Wayne, T.I., and Paul Allen.
As the event began, the colorful display full of cupcakes and mini couture cupcake stiletto bags filled with caramel cupcakes remained full, but as the event progressed cupcakes slowly disappeared while those in attendance walked around with bags filled with miniature cupcakes. By the end of the night, all of the cupcakes were gone, but the name Cupcake Stiletto styled so sweetly.
Cupcake Stiletto is a company that uses natural, organic and high quality ingredients in every freshly baked cupcake giving customers an authentic tasting experience. Each shoe is carefully chosen to ensure that the voice of the independent designers are expressed for selection by Cupcake Stiletto customers to embrace their personal style.