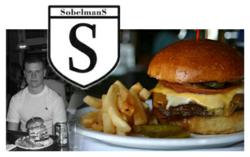 At Sobelman's, we pride ourselves on knowing how to host a party.
(PRWEB) November 21, 2012
Sobelman's Pub & Grill is well known for having one of the best burgers in Milwaukee, but not many know that this classic Milwaukee burger joint also hosts holiday parties.
"At Sobelman's, we pride ourselves on knowing how to host a party. We want to make sure that you have a great time, with great food and great service," says Dave Sobelman, owner of Sobelman's Pub & Grill. "And the best part is we won't even charge you a room rental."
Sobelman's books its private party room, which holds about 45 people, free of charge. Also, the Marquette location is available for party reservations during the month of December and into January while the students are on holiday break.
"I know it seems early to book a party, but now is the time to do it. There are only so many Friday and Saturday nights during the holiday season," says Sobelman.
To learn more about Sobelman's holiday party room or to book a holiday party, call (414) 931-1919 or visit http://www.milwaukeesbestburgers.com.
About Sobelman's Pub & Grill
The famous family owned and operated Milwaukee pub & grill, Sobelmans, has 3 locations for you to choose from; Sobelman's original Pub & Grill, Sobelman's Marquette and Sobelman's Eastside. Sobelman's serves up never frozen, Black Angus beef burgers served on freshly baked, country butter rolls that are topped with your favorite burger add-ons. Also, known for their famous Bloody Marys, Sobelmans is the perfect place for you to hold your company Christmas party or private holiday party.