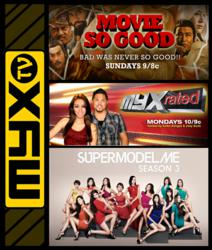 Redwood City, CA (PRWEB) November 19, 2012
Myx TV premieres new seasons of your all-time favorites tonight! Competitions on the runway and comedy return with season 3 of SupermodelMe and MYX-Rated, airing back-to-back on Monday nights.
New faces battle it out for the spotlight on the fashion reality competition that features Asian supermodels of Vietnamese, Burmese, European, Indian, Thai, Singaporean, Australian, Chinese, and Filipino heritage. Follow the statuesque beauties on their road to international stardom on the new show, hosted by the bewitching designer-clad international model, Lisa S. – renowned actress-model whose name has become synonymous with brands like DeBeers diamonds, Vivienne Westwood, Dior, and Chanel. The new season premieres tonight on 9pm/8 central.
The award winning show, MYX-Rated, is back for its landmark third season with hosts Joey Guila and Keiko Alingas. Join the raucous duo as they give their own comedic takes on entertainment, pop culture, internet trends, and much more. Catch all new episodes of MYX-Rated at its brand new day and time, premiering Monday at 10pm/9 central.
And because everything you want is on Myx TV, stand by for classic kung fu with Movie So Good. This Sunday, catch Story of the Dragon where Bruce Lee is challenged for teaching Wing Chun kung-fu and becomes the target of a hired hitman, which leads to the "way of the intercepting fist" being born. Movie So Good now airs on Sunday evenings at 9pm/8 central.
"We're thrilled to premiere brand new seasons for SupermodelMe and MYX-Rated," said Joy Bovatsek, Head of Programming for Myx TV. "SupermodelMe now runs for a full hour, has a new host and judge, and promises new fashion challenges to push the models to the extreme. And the hilarity ensues on MYX-Rated with Joey, Keiko and the show's correspondent, model-actress Nicole Blades."
It's all here on Myx TV. Tune into http://www.myx.tv for exclusives and behind-the-scene features.
# # #
ABOUT Myx TV®:
Myx TV is the premier Asian American entertainment and lifestyle cable network in the United States. Dedicated to airing the best in entertainment, Myx TV's programming is a unique combination of original and syndicated shows, including magazine talk shows, interactive music video countdowns, independent film and Asian cinema, and animation, airing 24/7 in English. Broadcast in over 10 million households across the country it provides a platform for Asian Americans on mainstream television and is also represented on its official website by a community of bloggers from coast-to-coast. To find Myx TV in your area and for exclusive content online, visit http://www.myx.tv.