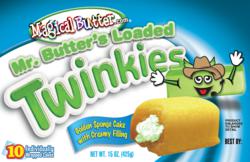 Our MagicalButter Device will Rock Your Socks!
Port Richey, Florida (PRWEB) November 20, 2012
After a weekend to think about how troubling life will be in America without Twinkies. MagicalButter.com is pleased to announce a bid for the operating assets of Twinkies. MagicalButter's contingent bid is for ten million dollars. MagicalButter is not interested in the purchase of the rest of the Hostess branded products. MagicalButter would like to acquire only the Twinkies brand and make loaded Twinkies for the states of Washington and Colorado.
Twinkies are Magical. So MagicalButter says God Bless America and the only thing worse than dying is life without loaded Twinkies.
MagicalButter believes Twinkies should be fresh. So, the recipe will be revamped with much less preservatives. The new product name will be Mr. Butter's loaded Twinkies. MagicalButter.com and Mr. Butter would like to say, "You're Welcome."