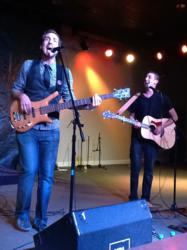 We support the whole of our team members and their hobbies, passions and creative side.
Citrus Heights, CA (PRWEB) November 20, 2012
CiminoCare, a San Mateo provider of affordable assisted living and residential care facilities, wishes to congratulate its corporate marketing director, Lance Mishleau, and his bandmate, Kyle McHargue, for winning the Sacramento Battle of the Bands. The duo bested 40 other competitors in three phases of the competition before garnering the top prize in the finals on Sept. 1.
"We support the whole of our team members and their hobbies, passions and creative side," Mark Cimino, CEO of CiminoCare, said. "It helps keep a vibrant company culture."
Mishleau holds a bachelor's degree in business, with a focus on promotions and administration, as well as an associate degree in marketing. He is in charge of oversight and the coordination of marketing efforts at CiminoCare. He also balances his responsibilities at work with his passion for music, taking the time to play and write songs.
"It is a great feeling to be able to win the Battle of the Bands," Mishleau said. "We had fans come all the way from Napa to up in the foothills. Even my boss came!"
Mishleau performs vocals, rhythm guitar and bass guitar, while McHargue performs vocals and rhythm guitar. Jordan Lewinski also played bass and lead guitar, with Matt Cowell on drums. Gorilla Music, a national production company and the organizer of the competition, awarded the band $500 and 20 free hours of studio time at the Formulation Room in Sacramento.
"We owe a lot of the win to our supporters, and we couldn't be more grateful for the opportunity to get into the studio and get these songs we've been working on into their hands. The Battle of the Bands helps make that possible," Mishleau said.
For more information about Mishleau or McHargue, visit them on Facebook at http://www.facebook.com/LanceMishleauMusic and http://www.facebook.com/KyleMcHargueMusic.
For more information about CiminoCare, call 855-2CIMINO or view the memory care facility on the Web at http://www.CiminoCare.com or visit 7501 Sunrise Blvd. in Citrus Heights.
About the company:
CiminoCare offers affordable, home-like communities for seniors whose needs range from independent living to memory care to assisted living support, as well as in-home care services. Currently, CiminoCare operates a total of nine senior living communities in Northern California. It remains proud of its humble beginnings that emphasize the importance of personable and professional care - the heart of its corporate philosophy.