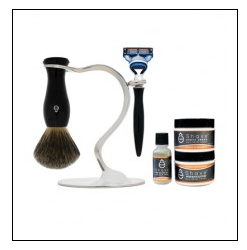 For the guy's on your holiday shopping list, why not treat him to a thoughtful, yet unexpected gift that will transform his daily shave into an enjoyable experience with a gift set from eShave.
New York, New York (PRWEB) November 20, 2012
Has a certain someone been good this year? Why not treat him to a thoughtful, yet unexpected gift that will transform his daily shave into an enjoyable experience. Keep your holiday shopping merry and bright with a shaving gift set by eShave - the brand known around the globe for its modern-inspired accessories and award-winning shaving products.
ESSENTIAL SET
For the guy who hasn't let a proper shave become a lost art, give him the gift of tradition with eShave's Essential Set. This thoughtful gift set has all of the elements of the classic wet-shave and includes: Fine Badger Hair Shaving Brush (Ivory) that exfoliates the skin, while it softens and raises the hair; ½ oz After Shave and 4oz Shave Cream. Available in 3 masculine scents: White Tea, Lavender, and Orange Sandalwood. Retail: $72 (value $86).
LUXURY RAZOR SET
Everything he needs to obtain eShave's signature smooth, close shave. The Luxury Razor Set includes a 5 Blade Luxury Razor (Black) – made of hand-turned Lucite – designed for a comfortable grip as it lifts the hair up away from the skin, allowing the blade to get as close as possible without irritation; ½ oz Pre Shave Oil to soften the hair and prepare the skin; 1oz Paraben-Free Shave Cream to protect and moisturize; and 1oz After Shave to hydrate and calm the skin post-shave. Available in the following scents: Verbena Lime, Lavender, White tea and Orange Sandalwood. Price: $95 (value $115.50)
ULTIMATE SET
For the shaving connoisseur or executive on your list, eShave's Ultimate Set will transform his daily shave into an art form. The 'S' Shaving Stand will look great on his countertop as it stylishly displays the Fine Badger Hair Shaving Brush and 5 Blades Luxury Razor. Paired with the Orange Sandalwood Collection, which boasts a masculine scent as it prepares, protects, and nourishes the skin, he'll enjoy a professional-like shave at home, every time. Choose between the black or green Razor/Brush combination for a gift of ultimate luxury. Price: $215 (value: $253.50)
Gift sets available at: http://www.eShave.com
About eShave:
Since 1996, eShave has been "All A Man Needs for the best shave Ever." Specializing in the finest quality grooming products and accessories, all of which are handmade in New York City, êShave brings a modern touch to the most traditional way of shaving. The award-winning brand is recognized around the globe for delivering the smoothest shave possible free from razor burn, shaving-related bumps and irritation, ingrown hairs, and the 5 o'clock shadow.
eShave products are available online at eShave.com, eShave New York at Rockefeller Center and in select upscale retailers/spas worldwide. 1-800-94-SHAVE / info(at)eShave(dot)com
###
Media Contact: Shelly Cellak | shelly(at)burgeonagency(dot)com | 773.398.6154