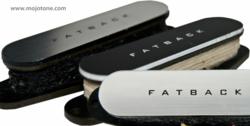 Burgaw, NC (PRWEB) November 21, 2012
Mojo Musical Supply has quickly garnered a reputation for innovative products in the field of electro-magnetic pickup engineering. Having found a noticeable lack of tonal spectrum between traditional Stratocaster™ and Gibson™ tones, Mojo Musical Supply has developed their new "Fatback" strat-style guitar pickup to straddle that gap.
Mojo engineer, Tom Brantley, developed the Fatbacks as a means of providing strat players with access to the full round bloom of Gibson™ tones. The Fatback's ability to span the divide between the glassy, piercing tones of a traditional strat-style pickup and the greasy, smooth warmth of a Gibson™ is what makes it so unique and desirable.
The Fatback's peerless appearance adds more than just tone to any guitar -- these pickups will add a sleek new look to any axe. Mojo's approach to pickup aesthetics has already attracted thousands of guitar players worldwide. The Fatbacks are available now at mojotone.com.
About the company:
Mojo Musical Supply™ has been in business for over 18 years as an amplifier cabinet manufacturer and amplifier parts supplier. Through the years, the Mojotone® line has grown to include all parts of the vintage, boutique and current production tube amp market. In addition, Mojo offers a complete line of guitar parts, pickup parts and guitar restoration supplies - including their own line of Mojotone® Custom Wound Pickups and a Signature Series featuring pickups designed by renowned techs, Lee Dickson and René Martinez.
Having both East and West coast manufacturing centers, Mojo Musical Supply™ builds cabinets for over 100 boutique amplifier companies and routinely ships over 1,000 cabinets a month. Their quality is unsurpassed and their experience in guitar amplification, technical design, and customer dedication is outstanding.
Mojo Musical Supply™ is committed to the highest standards of integrity, excellence and performance in dealing with both their client companies and individual customers. For more information visit their website at http://www.mojotone.com.