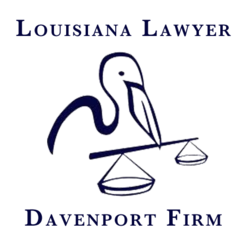 It is great to be a part of a building with old-style features to match my old-school work ethic.
(PRWEB) November 25, 2012
Satisfying the increasing needs of our clients who deserve effective representation is the first and foremost priority for Alexandria, Louisiana attorney Thomas "Tommy" Davenport, Jr. To surpass these expectations and for the convenience of his clients, the criminal defense and personal injury practice of Thomas Davenport, Jr., announces the relocation to downtown Alexandria, La.
The Davenport Firm, APLC, is at 602 Murray Street, Alexandria, Louisiana. The firm provides clients an easy-to-locate and comfortable setting to meet with Tommy Davenport. The firm is conveniently located in the center of the "legal hub," steps away from the Rapides Parish Courthouse, Rapides Parish Detention Center/Jail, numerous bail-bondsmen and Alexandria City Court.
The office is beautiful, meticulously maintained and many of the original architectural features remain intact. There is a large parking lot with free parking directly behind the building. The office environment resonates strength and stability so clients feel confident and secure during a difficult time. "This beautiful and historic office will certainly better accommodate our clients," said Tommy Davenport. "A client's stress and anxiety will be met with a calm and secure environment where I can provide trusted advice to help solve a difficult problem."
When charged with a crime, choosing an experienced criminal defense attorney who understands the intricacies of Louisiana law is important. It can mean the difference between living a normal life and facing a conviction that can curtail one's freedom, family, job and future. Thomas "Tommy" Davenport, Jr., understands that being arrested and charged with a crime is stressful enough without the long lasting effects of a conviction. He will aggressively fight for his client's rights and work hard to have the arrest record expunged.
Tommy also understands the difficult challenges involved with personal injury cases, and he will provide effective and aggressive representation. Unfortunately, car accidents, wrongful death, and personal injury happen in life. When these unfortunate events occur, Tommy will demand fairness and fight for your recovery of damages.
Thomas "Tommy" Davenport, Jr., has fought for his clients in criminal defense and personal injury cases in Alexandria, Louisiana since 2002. Tommy has an AV Preeminent™ Peer Review Rating from Martindale-Hubbell® and was recently awarded the 2012 Martindale-Hubbell "Client Distinction Award" for quality service to his clients in a national client survey. Tommy provides aggressive and effective representation tailored to the particular needs of each of his clients. For more information about Mr. Davenport and his firm, please visit http://www.davenportfirm.com.