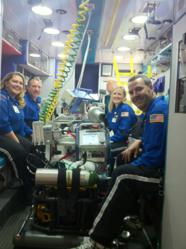 We're just thankful he's here.
St. Louis, MO (PRWEB) November 21, 2012
November 19, 2012, St. Louis -- A six-day-old baby from Emporia, Kansas was the first to travel to St. Louis Children's Hospital while receiving ECMO. ECMO is an advanced treatment that uses a pump and oxygenator to deliver oxygen to vital organs – doing the work in place of failing heart and lungs.
Almost immediately after baby Bentley Clark was born November 11, he had difficulty breathing. Doctors at the family's home hospital discovered only one side of his body were receiving oxygenated blood from his heart. He was airlifted to a pediatric hospital in Kansas City, where the medical team found and removed a clot in his aortic valve. Bentley was just two days old.
The very next day, his heart function continued to decline. Without another option, Bentley was placed on ECMO, which is a temporary solution while a child's condition stabilizes and improves.
A heart transplant is Bentley's only chance for long-term survival.
St. Louis Children's Hospital, the most active heart transplant center in the region, had just launched its ECMO transport program on November 1. It is believed fewer than 6 other hospitals in the nation offer ECMO transport.
A physician, two nurses and a perfusionist accompanied the newborn on the fixed-wing flight from Kansas City to St. Louis on Saturday, November 17.
By Monday, Bentley had been placed on a Berlin heart, which is a ventricular assist device used to support a child until a donor heart becomes available.
"As a leading transplant center, the hospital's respiratory and heart failure population has substantially increased, along with growing numbers of patients on ventricular assist devices and paracorporeal lung assist devices," said Celeste Capers, MD, medical director, Transport Service.
"Patients like these may require ECMO prior to definitive care, and currently only a handful of centers across the country provide pediatric ECMO transport."
Shelby and Johnny Clark, Bentley's parents, will re-locate to St. Louis while Bentley awaits his heart transplant – a dramatic change from the family's original holiday plans.
"We thought we'd be at home with our new baby in time for Thanksgiving," says Shelby.
While the best-laid plans may have fallen through, the new parents recognize the importance of the holiday more than ever.
"We're just thankful he's still here," says Johnny.