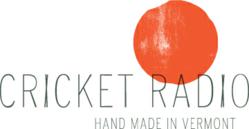 "Less is more. Let your beautiful linens and tableware set the scene."
BURLINGTON, VT (PRWEB) November 20, 2012
An essential, yet easily overlooked component of holiday hosting is the table setting. While the meal often receives the majority of a host's attention, guests experience the food and the table setting as one. Cricket Radio's Elizabeth Archangeli encourages planning the tablescape in tandem with the menu to ensure a beautiful and stress free holiday gathering.
Cricket Radio is a Vermont-based purveyor of fine linen goods for kitchen, tabletop and home including table settings, tea towels, and throw pillows. In addition to offering new holiday-specific designs this season, Elizabeth is also offering tips for a casually elegant holiday meal without the trappings of seasonal stress.
Décor: Simplicity = Elegance

Less is more. Let your beautiful linens and tableware set the scene. I avoid cluttering the table with lots of extra things that may look pretty but have no purpose. Make sure there's plenty of room for wine and water glasses to avoid spills!
Simple pewter or silver napkin rings look best with patterned linens, and simple tied raffia or ribbon works just as well.
Keep the candles and flowers and other centerpiece items low - you want to be able to see your friends and family across from you.
Use natural elements—pomegranates, gourds, and my new favorite, piñon cones—for a soft, elegant feel. A little shimmer is nice, but it's easy to overdo.
Finally, don't feel confined to typical holiday colors - anything can look festive when the right mood is set!
Logistics: Leave Nothing to Chance!
Do a dry-run of your tablescape a few days before the holiday. Knowing in advance if you're missing something or lacking a little pizazz will help you get things sorted in a timely manner and cut down on stress.
Wash and press linens the day before, especially if you're using a tablecloth.
Set the table in the morning on the day of the meal, before you get too harried with the food preparation. There's nothing worse than racing back and forth between the kitchen and the dining room table!
Cricket Radio's holiday linen table settings featuring golden, ice blue, and festive poinsettia red hues that perfectly and subtlety compliment holiday meals and make unforgettable hostess gifts.
For more information on Cricket Radio's unique offerings for kitchen, tabletop and home, visit http://www.cricketradiovermont.com and Elizabeth's Etsy store at http://www.etsy.com/shop/CricketRadioVermont.
###
Cricket Radio creates contemporary, worldly, conversation-worthy designs that are individually silk-screened onto organic, sustainable Italian linen and sewn by hand in Vermont. Cricket Radio's linen home goods soften with each wash while their water-based eco-friendly inks and dyes never fade.