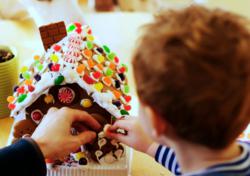 Santa Ana, CA (PRWEB) November 19, 2012
Inside the kitchen, much more is going on than pouring and mixing – it's science at work! Discovery Science Center (DSC), presented by Taco Bell, proudly hosts the 7th Annual Science of Gingerbread Exhibit and Competition. Sponsored locally by ScholarShare and Time Warner Cable, DSC's holiday extravaganza is sprinkled with festive activities designed to bring families together this holiday season.
Engage in hands-on activities as you ice your knowledge with recipe science, learn about kitchen tools, and more.
Special Programming Includes: (Every weekend and daily December 16 – January 6)

Visit with Santa and take a photo with him. (weekends only)
See our "Matter of Taste" Stage Show featuring kitchen science.
Build and race a candy car in DSC's Gingerbread Derby.
Make your own gingerbread mix to take home.
Decorate holiday cookies and eat them too!
Local companies, schools, families and organizations are also invited to work as a team and submit a gingerbread creation for Discovery Science Center's Science of Gingerbread Competition for the chance to win some awesome prizes. Categories this year include: Best Indiana Jones ™ Theme*; Most Festive; Best by Organization; Best Youth under 5; Best Youth Group; Best by a Classroom; Best by a DSC Member. (*Business and organizations not eligible for this category.)
All gingerbread entries must be dropped off at Discovery Science Center from November 17-26. Entries will be displayed at DSC from November 23, 2012 through January 6, 2013. All participants will be invited to an exclusive holiday party where winners of each category will be announced.
For more information and registration for the 2012 Science of Gingerbread Competition visit us here http://www.discoverycube.org/gingerbread/.
About Discovery Science Center
Imaginations run wild with 120 hands-on exhibits at Discovery Science Center (DSC), Orange County's leading destination for hands-on science entertainment. Take the Eco Challenge and become a green superhero, feel the power of a real rocket engine launch and explore the inner workings of a two-story tall dinosaur! DSC is a non-profit organization dedicated to educating young minds, assisting educators with teaching science and technology and increasing public understanding of science, math and technology through interactive exhibits and programs. For further information, visit http://www.discoverycube.org or call (714) 542-2823.