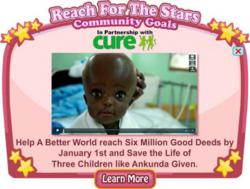 This holiday season you can give thanks through a Facebook game and help save lives.
Philadelphia, Pennsylvania (PRWEB) November 20, 2012
Thanksgiving is a time for people to say thanks for their blessings and think about the things for which they are grateful. This holiday season you can give thanks through a Facebook game and help save lives.
A Better World is a game on Facebook where players are rewarded for doing good deeds in the real and virtual worlds. The game is close to reaching 6,000,000 good deeds done by its players, and is challenging them to reach the goal by year's end. If players reach 6,000,000 by December 31st, ToonUps will donate funds to CURE International to save the lives of these three babies stricken with hydrocephalus in the developing world: Maureen Ageno, Sylas Opio, and Sharon Apio.
Giving thanks is a core theme of A Better World and sharing gratitude is one of the most popular features in the game. The top five things that BetterWorldians are thankful for are "Family, Love, Happiness, Friends, and their Pets" -- a heartwarming reminder of how people embrace this season of goodwill, even in Facebook games.
"Both traditional wisdom and contemporary science show that gratitude is a key virtue", says Gregory R. Hansell, Vice President of Product Development at ToonUps. "Positive Psychologists are in agreement that giving thanks is central to a positive outlook, and ancient philosophers believed that being thankful is at the core of a good and happy life."
To join the game, players simply sign up for A Better World on Facebook, create a character and start exploring. Many of the key areas in the game, including the Gratitude Grotto, the Positive Post, and the Department of Do Good provide opportunities to post "do-good" activities that contribute to the 6 million challenge. Examples could be donating groceries to a shelter for those affected by Hurricane Sandy, sending a personal get well wish from A Better World's Positive Post directly to a child in a CURE hospital, or simply posting expressions of gratitude. All good deeds earn in-game points for the player as well as counting toward the goal of 6 million and the donation to CURE.org.
"The continued support of ToonUps and the A Better World community have been invaluable to CURE", said Joel Worrall, VP of Cure.org. "The financial contributions made possible by A Better World players have changed the lives of over a dozen children, and the thousands of get well message sent from within the game have brightened the day of hundreds of patients and aided in the healing process in our hospitals each day. We are extremely grateful for their partnership and support."
ToonUps is a digital entertainment company that has been creating uplifting games and apps for over ten years. Their social game, A Better World, creates a fun environment that inspires players to help others, become better people, and make the world a better place. The game is creating a powerful legion of do-gooders known as BetterWorldians. And the secret is spreading.
CURE International heals the sick and proclaims the kingdom of God. It is the largest provider of reconstructive surgery to disabled children in the emerging world. Since opening the doors of its first surgical teaching hospital in Kijabe, Kenya in 1998, CURE's focus on bringing healing to developing nations has resulted in more than 1.9 million patient visits and over 138,000 surgeries to correct physically disabling conditions. CURE has also trained more than 6,100 medical professionals raising the standard of care in the countries where it operates.
Websites
A Better World: http://bit.ly/ABW6Million
ToonUps: http://bit.ly/ToonUpsCURE
CURE: http://bit.ly/CUREorgkids