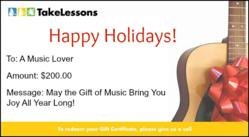 SAN DIEGO, CALIF (PRWEB) November 20, 2012
TakeLessons, the largest local music lessons provider in the U.S., today announced new holiday promotions sure to put music lessons high on consumers' gift lists this year.
In addition to being fun, leading research confirms that learning to play a musical instrument provides many benefits for people all ages.
Specifically, playing music:

Helps Kids Learn and Socialize -- School-aged children who play music do better in school and in life. Teens see music as their "social glue" and as a bridge for building acceptance and tolerance for people of different ages and cultural backgrounds.
Provides Stress Relief for Adults -- Adults who play an instrument are able to reduce their stress and use the activity as an emotional outlet. Working adults can reduce their chances of job "burnout."
Keeps Seniors Healthy and Active -- Seniors who engage in music making can better manage diseases such as Alzheimer's and Parkinson's, and increase their self-esteem.
To help people take advantage of the fun and many benefits of learning to play music, TakeLessons is now offering:

A 20 percent discount for all new students on select dates – Throughout the holiday season, new students receive a 20 percent discount on their first lessons purchase. TakeLessons will celebrate key days of the season with this discount including Black Friday and Cyber Monday, as well as the weeks leading up to Christmas, beginning Dec. 13, 2012.
Holiday gift cards with 20 percent off lessons for gift card recipients – During the holidays, gift cards are available in increments of $50. Consumers who purchase or receive a gift card during the holiday season (Nov. 23 – Dec. 24) will receive a 20 percent discount on their lessons if they redeem before Jan.15.
Donation to Musical Education with every purchase – A portion of all holiday sales between Nov. 23 and Dec. 24 will be donated to non-profit Guitars in the Classroom to sponsor San Diego-based musical education initiatives. GITC provides regional programs to train, equip and empower classroom and music teachers to sing, play guitar, teach and lead songs as well as compose lyrics for learning with their students.
To take advantage of these holiday promotions, consumers should visit http://www.takelessons.com
About TakeLessons
TakeLessons, the largest music lessons provider in the U.S., has been connecting music students with the best local music teachers since 2006. The company provides convenient, safe, affordable and fun music lessons to students of all ages. For more information and to find the best local music teachers, please visit http://www.takelessons.com
About Guitars in the Classroom
Guitars in the Classroom is a 501 (c)3 non-profit that makes hands-on music an integral part of learning every subject for students in their regular classrooms. Our regionally based programs train, equip and empower educators to sing, play guitar, teach and lead songs as well as compose lyrics for learning with their students. Infusing academics with music helps every kind of learner become more actively engaged, creative and successful in school, builds classroom community and provides musical access for every child. Together, music integration and sequential music education have the power to help all students succeed in school and in life. For more information, please visit http://www.guitarsintheclassroom.org