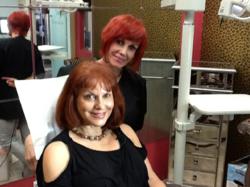 I'm touched by the kind responses and positive feedback I get from these videos.
New York, NY (PRWEB) November 19, 2012
It's time to give thanks. As Thanksgiving 2012 approaches and Sally Hayes approaches 100,000 official views to her young YouTube Channel, the industry-leading expert permanent makeup artist is celebrating the milestone by letting the first viewer to send proof of her 100,000 YouTube Channel views the right to gobble up a free bottle of Latisse (a $179 value), the proven solution for growing thicker, fuller eyelashes.
"Wow is really all I have to say," admits Hayes who has performed about as many successful permanent makeup procedures in her 26-year career as her young YouTube Channel now has official views. "I'm touched by the kind responses and positive feedback I get from these videos. Amazingly, it's not just from people across the country, but actually around the world. After starting out kind of slow on YouTube, now what we're doing to help women seems to have really caught on."
Sally Hayes produced videos on YouTube have quickly become some of the most popular ones on the subject of permanent cosmetics/permanent makeup offering good, quality content with honest, helpful information. In just the past 2 months her unedited live procedures on eyebrow tattoos, permanent eyeliner, and permanent lip makeup have gathered more than 50,000 official views.
Here's all the winner has to do to collect the free bottle of Latisse from Hayes:
1. Be a registered YouTube user.
2. Type "Sally Hayes" into the search bar.
3. Click on the Sally Hayes channel.
4. If the counter shows 100,000 views or more, take a screen shot of it using your smart phone, digital camera or screen capture software.
5. Be the first person to email your screen shot to permanentmakeupsally(at)gmail(dot)com.
"Latisse is the perfect tool to enhance the appearance of your eyelashes," says Hayes. "Most women who get permanent eyeliner and tattooed eyebrows are absolutely thrilled with how their eyes look when they do all three. I'm grateful for all of the love on YouTube. Hopefully this will help some other appearance-driven woman to feel lucky, too."
About Sally Hayes Permanent Makeup
Many of the country's top plastic surgeons and women across the United States agree. Sally Hayes is the # 1 expert permanent makeup artist. With offices in Scottsdale, AZ, New York, NY, Las Vegas, NV, and Los Angeles, CA, she specializes in helping women enhance their appearance easily with natural-looking eyebrow tattoos, permanent eyeliner, permanent lip makeup, and cosmetic camouflage for post-surgery facelift scars and areolas.
For more information, visit http://www.permanentmakeup.com.