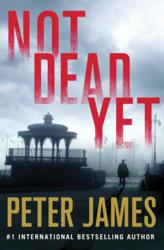 Not Dead Yet was launched to rave reviews in the UK, shooting to #1 on the UK Sunday Times best seller list.
(PRWEB) November 20, 2012
Readers across the United States will line up for copies of Peter James' latest Detective Superintendent Roy Grace novel Not Dead Yet when it hits bookstore shelves on November 27 from Minotaur Books. Not Dead Yet was launched to rave reviews in the UK, shooting to #1 on the UK Sunday Times best seller list, beating James Patterson's new novel in hardback and ending 50 Shades of Grey's 25-week run in the #1 spot with its paperback release. The eighth of Peter James' Roy Grace novels, Not Dead Yet has also been chosen as a "Pick of the Month" on Amazon UK, and has been named one of the Top Ten Books of 2012 by the American crime and mystery magazine The Strand. The popular Roy Grace novels have sold over thirteen million copies worldwide and have been translated into thirty-five languages. For additional information, please visit http://www.PeterJames.com.
Not Dead Yet tells the story of rock superstar, Gaia, desperate to be taken seriously as an actress. She returns to her hometown of Brighton, England from the U.S. to take the starring role in a major Hollywood film about the city's greatest love story, George IV and Maria Fitzherbert, being shot on location in the grounds of Brighton's Royal Pavilion. For Detective Superintendent Roy Grace, it is a nightmare unfolding before his eyes as he tries to stop a celebrity stalker who will stop at nothing to see her dead.
ABOUT PETER JAMES
Peter James is one of the world's best selling crime and thriller novelists. The mystery writer has developed a close working relationship with the Sussex, UK police over many years, spending an average of one day a week with them. His writing reveals a unique insight into the reality of modern day police work and forensic science. He has also carried out extensive research with police in Moscow, Munich, Paris, Melbourne, Sweden, New York and Romania, and regularly attends international police conferences to ensure he is at the cutting edge of investigative police work. Notably, the author will also be presenting a rare mystery bookstore tour in early December in Los Angeles, Houston and Phoenix.
Peter, an established film producer and scriptwriter, was educated at Charterhouse then at film school. He lived in North America for a number of years working as a screenwriter and film producer before returning to England. He has produced numerous films, including The Merchant Of Venice, starring Al Pacino, Jeremy Irons and Joseph Fiennes.
A film adaptation of the author's first Roy Grace novel, Dead Simple, is currently in development, Director John Duigan (Careless Love, The Engagement, Head in the Clouds and more than 20 other films) has been attached to the film project, and Peter James is with Peter overseeing all aspects, including the scriptwriting.