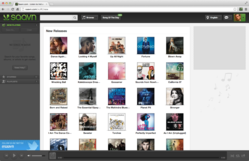 "This felt like the right time for Saavn to launch English music for our users."
New York, NY (PRWEB) November 20, 2012
Saavn, the world's fastest-growing Indian music service, is announcing today the launch of its newest product, Saavn English. Saavn English brings music from artists like Jay-Z, Pitbull, Shakira and Michael Jackson to Saavn's web platform (Saavn.com) in India, with plans for a future launch on Saavn's mobile platforms: Saavn Music for iPhone, Android, and Java/J2ME/Feature phones.
Saavn English will launch with more than a quarter of a million songs from label partners Sony Music Entertainment and Universal Music Group. Saavn already has music licensing deals in place with more than 300 South Asian record labels, giving the service the largest content catalogue of Indian music. Their catalogue ranges from new releases to some of the earliest known Bollywood records, going back to the 1930s. Saavn serves users in more than 200 countries.
With the launch of Saavn English, Saavn anticipates serving an even larger Indian user base that's seeking Western music instead of, or in addition to, regional music. As the nation with the second-largest population of English speakers in the world (just more than 125 million people), India is a prime market for Western music. English-language content has always been important for radio stations and TV channels, and Saavn's foray into English-language music marks the genre's arrival in legal music streaming in India.
The launch of Saavn English puts Saavn in direct competition with companies like Spotify, Pandora, and Rdio - services in the same space, which have yet to launch in India. English-language music has a global appeal, and the key demographics in India are no exception.
"Ever since we started Saavn, we've always wanted to make English content available on our products. Since we've now successfully delivered apps and a website that people love, this felt like the right time for Saavn to launch English music for our users," said Paramdeep Singh, co-founder and executive chairman of Saavn.
Saavn English will launch with new releases and catalogue classics by Sony Music artists, including AC/DC, Aerosmith, Alicia Keys, Beyonce, Billy Joel, Bob Dylan, Carrie Underwood, Chris Brown, Britney Spears, INXS, Jimmy Hendrix, Johnny Cash, Justin Timberlake, Kings of Leon, Kelly Clarkson, Mariah Carey, Miguel, Oasis, Pink Floyd, and Usher; and by Universal Music Group artists, including Bob Marley, Bryan Adams, Celine Dion, David Guetta, Jennifer Lopez, and Kanye West.
Starting today, all Saavn's listeners across India can access English content on Saavn's website, http://www.saavn.com.
About Saavn
Saavn was founded as BODVOD networks in 2006 by Vin Bhat, Rishi Malhotra, Neal Shenoy and Paramdeep Singh, in a partnership between New York-based parent company 212Media (also founded by Bhat, Shenoy, and Singh), Indian company Hungama, and Schramm Sports & Entertainment. It is the premier consumer engagement focused technology company in the South Asian digital media space. Saavn.com delivers a seamless listening experience with the smartest search and the largest library of music on the web.