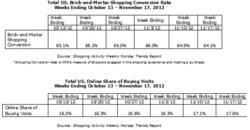 Port Washington, NY (PRWEB) November 21, 2012
Port Washington, NY, November 19, 2012–For the week ending November 17, 2012, The Shopping Activity Weekly Holiday Trends* report from leading market research provider The NPD Group, Inc., shows that 57 percent of U.S. consumers went shopping at brick-and-mortar retail stores, up from 56 percent last week. Approximately 64 percent of these shopping visits resulted in a purchase in the most recent week, which was down 1 point from the prior week. While conversion is down spend is up with the brick-and-mortar average spend up 3 percent and online spend up 6 percent.
For the week ending November 17 the online share of buying visits increased to 18 percent.
In the last week areas of Northeast have returned to normal business which drove the increase. The shopping visits were above pre-Sandy levels with brick-and-mortar shopping visits up 16 percent from last week (up 4 percent pre-Sandy) and online buying visits up 18 percent from last week (up 5 percent pre-Sandy).
"We traditionally see a decline in conversion as we head into the holiday," said Marshal Cohen, chief industry analyst, The NPD Group, Inc. "Consumers are not only in research mode strategizing for their Black Friday weekend attack, they have put off spending to save funds and utilize during Black Friday weekend and beyond. This is the lull before the storm."
*The Shopping Activity Weekly Holiday Trends is special report from The NPD Group, Inc.'s Shopping Activity Service. The Shopping Activity Weekly Holiday Trends report will follow the weekly holiday shopping trends over the course of the 2012 holiday retail season and will be released weekly. Our Shopping Activity Services fields an online study to 4,750 U.S. consumers daily. It captures brick-and-mortar shopping behavior and online purchase behavior in general merchandise channels, including purchases of categories from apparel to entertainment to toys and video games. It excludes the following channels: grocery, drug, gas, convenience and restaurant.
** Buying visits occur when the consumer makes a purchase from a store or website. Buying visits are different from dollar or unit sales.
About The NPD Group, Inc.
The NPD Group provides global information and advisory services to drive better business decisions. By combining unique data assets with unmatched industry expertise, we help our clients track their markets, understand consumers, and drive profitable growth. Sectors covered include automotive, beauty, entertainment, fashion, food / foodservice, home, office supplies, sports, technology, toys, video games, and wireless. For more information, contact us, visit http://www.npd.com/, or follow us Twitter at twitter.com/marshalcohen and twitter.com/npdfashion. Become a fan of Marshal Cohen at http://www.facebook.com/npdmarshalcohen and watch more on NPD's YouTube channel.