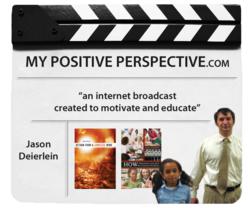 help that child's life become more of a positive perspective
Charleston, SC (PRWEB) November 21, 2012
In November, 2012, an episode of My Positive Perspective was broadcast to help bring attention to a cause we all should be doing our best to support. The Christmas time of year is one that should increase our generosity and desire to help others who are less fortunate than us. High unemployment and a lengthy recession have made the necessity giving more important than ever.
My Positive Perspective host Jason Deierlein states in the episode, "Christmas should be every child's day to enjoy and have a positive memory about."" In my talk show, I constantly ask for their effort to improve in the classroom, for example. However, Christmas should be one day that brings them joy and comfort." Sadly, for many children this is not the case although it should be.
During the episode, guest Ben Toi comments, "Growing up, I had some great times with that one special toy. That one toy can bring you back to your childhood later." It is amazing how one simple toy can inject positivity and help that child's life become more of a positive perspective.
My Positive Perspective is an internet talk show created for the purposes of overcoming adversity. We educate and inspire in many different ways and talk about different types of obstacles, but the ultimate goal of this business is to spread positively and strengthen wherever there is a weakness or tragedy to overcome. I myself survived a car accident, coma, and painful rehabilitation. I consider myself lucky to be here and providing the public with this free service. This company is kind of my gift to myself for achieving. The one thing you never lose after surviving a tragedy is desire to help.