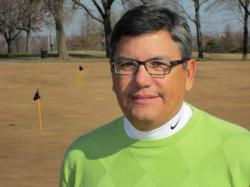 Paul came to the City of Overland Park's Golf Division as Director of Instruction in February 2012. During this time, he has quickly developed one of the Midwest's leading golf instruction programs termed "The University of Golf."
Overland Park, KS (PRWEB) November 20, 2012
Paul Hooser, PGA Director of Instruction at the Overland Park Golf Division's "University of Golf" has been recognized as the 2012 PGA "Teacher of the Year" by the Midwest PGA Section. This is Paul's second time earning the honor, previously being awarded in 1994. The award has been presented annually since 1987, and is based on the PGA Professional's overall performance in teaching. The Midwest PGA Section looks for "unusual, innovative and special teaching programs in which the honoree has initiated or played a key role in implementing; articles published in books and magazines; as well as outstanding golfers the PGA Professional has instructed."
Paul came to the City of Overland Park's Golf Division as Director of Instruction in February 2012. During this time, he has quickly developed one of the Midwest's leading golf instruction programs termed "The University of Golf." The comprehensive instruction program includes two "campuses" located at the (Sykes/Lady) Overland Park Golf Club and the St. Andrews Golf Club, and offers a wide range of curriculum serving both beginning and experienced golfers. Paul has also supervised the implementation of some of the industry's most innovative instruction offerings such as the First Tee program, Jr. TPI (Titleist Performance Institute) classes, and Adult TPI services.
In his 32 years as a PGA Professional, Paul has been recognized by his peers numerous times as one of the best golf Professionals in the Midwest and nationwide. In addition to earning "Teacher of the Year" twice (1994, 2012), Paul has been named Midwest PGA Section "Club Fitter of the Year" three times (1997, 2005, 2007), Midwest PGA Section "Merchandiser of the Year, Private Club" Twice (1993, 1998) and Midwest PGA Section "Golf Professional of the Year" once (1999). Paul feels his skill is really in getting to know the player. He states, "my love for working in golf has always been the mentoring and coaching of golfers. My belief is that every golfer is unique and requires an individual approach at accomplishing their individual goals."
When asked what it means to him to be recognized as the Midwest's best PGA Instructor Paul said "I'm just excited to keep improving everything we've created this year, and to make it even better next year. It's good to get some recognition, but we're going to keep improving." Paul and his staff of over 10 highly trained PGA or PGA Apprentices are dedicated to growing the game of golf in the Kansas City Metro, and even offer an indoor driving range to keep the momentum during the winter months. Paul's University of Golf indoor range is armed with some of the Golf Industry's best technology for truly developing a player's game, "The indoor range is where we really get to work, the off-season is the best time to build a golf swing, and that's what we do here."
To get a lesson from Paul Hooser or any of his University of Golf staff, visit the Overland Park Golf Division's website at http://www.golfop.com to learn more about the curriculum, you may also contact Paul at (913) 897-3804 or by emailing him at paul(dot)hooser(at)opkansas(dot)org. The Overland Park Golf Division Indoor Driving Range is located in the Turf Care Center Building at 12698 Nieman Rd. (building driveway off of 127th & Nieman). Visit the website to learn more about one of the area's only Indoor Practice Facilities.