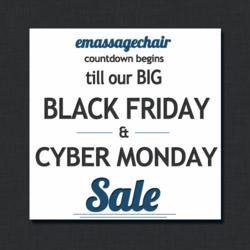 Emassagechair has worked very closely with their massage chair brands to offer extra Black Friday and Cyber Monday discounts that shoppers will be very excited about.
Las Vegas, NV (PRWEB) November 21, 2012
Many shoppers are counting down the days to Black Friday and Cyber Monday and Emassagechair.com, deemed the massage chair experts has recently started announcing some of their massage chair specials. They have worked very closely with their brands and have been able to get deals that customers will be very excited about. Visitors to Emassagechair and potential massage chair buyers will see extra savings on all popular brands of massage chairs, either in massage chair coupons, or added products and services like Extended Warranty Plans and White Glove Delivery. Some of these brands include Osaki, Infinity, Panasonic, Cozzia, Omega, Sanyo, and a new line of Zero Gravity chairs from Inner Balance Wellness. Massage chairs are continuing to grow in popularity as people are better understanding the benefits of massage, and for avid users the cost savings associated with buying their own massage chair. Many people have already expressed their savings as opposed to visiting a massage therapist 3-4 times a week. This is something many people with chronic therapy issues or injuries have communicated to Emassagechair and have been huge advocates for.
The savings on Black Friday for massage chair buyers is great news as people gear up for personal holiday gifts and gifts for loved ones. You can expect to see an increase in tech savvy shoppers buying for their parents, and people looking for that everyday therapy experience. There's no doubt people will be saving big on Black Friday, and many companies including Emassagechair will answer the high demand for savings by making sure these savings carry through the weekend to the coveted Cyber Monday. Everyday shoppers to Emassagechair.com already receive great savings with their free shipping and no sales tax and these offers will have people very excited and finally ready to purchase their new massage chair.
This is a great time to get a deal on popular massage chairs like Osaki's Brand New Os-7075r, and Infinity's New It-8500. For people who are more interested in just relaxation furniture they should check out Sanyo and Inner Balance Wellness' line of Zero Gravity massage chairs. There are also the top selling massage chairs like Osaki's Os-4000, Panasonics EP-30007, and Omega's Montage Elite that will have additional savings.
Shoppers can also expect deals on some brand new massage chairs that are just in time for the holiday season, like Osim's uAstro2, a new brand called Superior Chairs that just released their new model, and Infinity Massage Chairs which will release their new It-8100 in the coming days. There's no doubt people will have a ton of options to choose from, including color, special features, desired look, and most importantly the type of therapy experience they are looking for.
Emassagchair.com knows this can be overwhelming so they put together a massage chair comparison tool, and are extending their hours from 6am to 9pm PST on Black Friday through the weekend and Cyber Monday.
As always they welcome shoppers to call them with any massage chair questions at 888.360.9996 or for those wanting written answers feel free to email them or chat online through their online support.