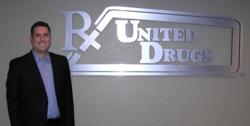 I look forward to working with our member pharmacies to allow for this critical role to continue to grow and address the needs of our patients and payer partners
Phoenix, AZ (PRWEB) November 19, 2012
United Drugs, the largest national member-owned Pharmacy Services Administrative Organization (PSAO) announces the appointment of Rob McMahan to the position of president. McMahan brings many years of managed care pharmacy leadership experience to the United Drugs organization.
As president, McMahan will lead the PSAO services arm of American Associated Pharmacies (AAP) through its United Drugs subsidiary located in Phoenix, AZ. Prior to joining United Drugs, McMahan held managed care pharmacy roles of increasing scope and responsibility and most recently served as Vice President of Clinical Pharmacy Operations for Amerigroup Corporation, a Fortune 500 Company. Throughout his career he has emphasized the valuable and integral role pharmacists play in patient care.
"From my time working with the Asheville Project, I have always seen the value of the pharmacist in addressing the clinical needs of patients and driving health care quality improvements. I look forward to working with our member pharmacies to allow for this critical role to continue to grow and address the needs of our patients and payer partners," says McMahan.
The United Drugs Board of Directors, composed exclusively of independent pharmacy owners, appointed McMahan based on his leadership, experience and educational background. McMahan's strong commitment to education has earned him a bachelor's degree from Furman University, a master's degree from Bethel University as well as his PharmD and MBA from Campbell University's Schools of Pharmacy and Business.
Founded in 1976, United Drugs is the largest national member-owned PSAO and a subsidiary of American Associated Pharmacies. United Drugs offers independent pharmacies a comprehensive menu of program choices from 3rd party contracting, central pay services, audit protection, patient care programs and under paid claim reimbursement assistance. Pharmacies wishing to contact United Drugs may do so by visiting http://www.rxaap.com or by calling 1-877-79-RxAAP