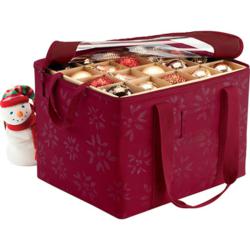 CAMAS, WASHINGTON (PRWEB) November 21, 2012
Outdoor Cover Pros announces the launch of their new holiday storage solutions just in time for the holiday season. These products make storing and organizing holiday decorations easy and efficient. This line of high quality organizational products are stylish and distinctive and are of the same quality as their lines of patio furniture, grills, home and garden accessories, and other offerings.
This product line features a variety of storage options for trees, decorations, wreaths, lights, wrapping, and ornaments and they all come with a 3-year warranty. Storing holiday decorations does not have to be cumbersome; holiday décor can be organized and stored safely for the holidays for decades to come. The Ornament Organizer features three sturdy removable trays that are easily configured to host a variety of ornament sizes. The handles make moving prized family keepsakes and ornaments safe and it is sturdy enough to withstand stacking for storage that is more versatile.
The Tree Rolling Storage Duffel is a must-have for any home or office that stores a pre-lit artificial tree from year to year. Trees up to 9 feet tall are easily stored, moved and managed because of the wheels and handles. The All-Purpose Rolling Storage Bin is ideal for larger and heavier holiday decorations including inflatables and other exterior decorations. All of the products in this line feature easy-view window lids that allow you to see inside and feature ID sleeves for easy labeling. This product line is the perfect addition to Outdoor Cover Pros outstanding inventory of storage solutions.
Storing and organizing holiday decorations have never been easier. It is essential that they be protected to ensure they look their best and become heirlooms of the future. The new holiday storage system is ideal for individuals that want to preserve their keepsakes in an organized and safe fashion. Outdoor Cover Pros takes great care in selecting the products they sell; only the finest products that create real solutions are offered to the public.
About Outdoor Cover Pros
Outdoor Cover Pros sell only the finest products available. Patio Furniture, grills, air conditioner, home and garden, power sports, golf, auto and RV, equipment and now holiday storage solutions are available through their easy to use website http://www.outdoorcoverpros.com. The website is easy to navigate and consumers can quickly find the products they need to protect expensive investments including autos, RVs, boats, ATVs, motorcycles, patio furniture, grills, garden equipment, and sporting equipment.