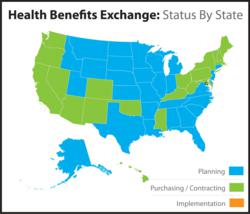 Our market research will help vendors prepare to work with the states as the 2014 implementation deadline approaches
HERNDON, VA (PRWEB) November 20, 2012
CJIS GROUP, a provider of Pre-RFP market research, has compiled detailed information on the type and status of each state's health benefit exchange. This analysis comes just one week after the Department of Health and Human Services extended the deadline for states to declare their HBX plans.
The CJIS GROUP HBX Guide and user-friendly maps provide technology vendors with the most current status update for each state. The CJIS GROUP database features additional reports detailing how each state plans to proceed in planning, procuring and implementing an HBX. Features included in the CJIS GROUP HBX Guide:

Overview of each state – including the type of HBX and the status of their progress
Listing of consultants to the State on each project
Listing of Implementation vendors on each project
"Our market research will help vendors prepare to work with the states as the 2014 implementation deadline approaches," commented David Heinemann, CEO of CJIS GROUP. "In addition our overview will give state CIOs and CTOs insight into the implementation strategies and processes of their counterparts in other states" said Heinemann.
The HBX Guide is part of CJIS GROUP's commitment to improving the technology procurement process by providing in-depth, validated market intelligence, and quality research for the criminal justice, public safety, and health and human services community.
To get a copy of the CJIS GROUP HBX Guide please contact,
Lauren Franco, Marketing Executive
lfranco(at)cjisgroup(dot)com
703-822-5082
CJIS GROUP is the leading provider of pre-RFP market intelligence regarding IT procurements in the criminal justice, public safety, and health and human services market in the US. Many of the largest IT vendors, as well as specialized vendors, use CJIS GROUP's web-based market intelligence to plan their sales activities to police, fire, emergency services, courts, corrections and health and human service agencies across the US.