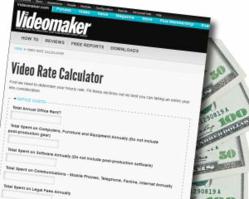 CHICO, CA (PRWEB) November 21, 2012
Videomaker, the premiere website and magazine for all things video, has released the Video Rate Calculator, a new tool to help freelance videographers decide how much they should charge for video work.
A freelance videographer always has his or her rates on the mind. It's the biggest question when a videographer is just starting out, but even long time professional freelancers still struggle with this seemingly simple question. A videographer knows that his time and work is valuable, but how valuable? How much does he need to charge to keep his business afloat? How can he keep his prices competitive without cheating himself? How can he make enough money to survive without frightening away potential clients with high prices?
Finding the right, fair price to charge for video work is a delicate balancing act – and, unfortunately, for most videographers it's little more than a guessing game. But the simple truth is that if one doesn't know what their services are worth, there's no way to run a successful video business. Too many videographers try to guess the best rate, only to find out that they've aimed too low and their bill won't even cover the equipment and transportation expenses of the shoot.
Let Videomaker take the guesswork out of the equation. Presenting the new Videomaker Video Rate Calculator – the quick and easy way to calculate exactly the best rates for any video freelancer. This freelancer guide will immediately take into account any unique circumstances – from business expense to cost of living and even the desired profit level – and help figure out the best possible rate to charge. It's the best way to find a reasonable, profitable middle ground so that you can answer with confidence the next time that a client asks to hear a prince quote.
The Video Rate Calculator will help you:
Keep Track of your Business Expenses
Keep your profits at the level you want
Keep you always operating in the black
Keep your prices competitive to attract returning clients
Grow your business with new clients
"What should I charge for my video work?" is the number one most frequently asked question by videographers. Get the answer with the new Video Rate Calculator:
http://www.videomaker.com/video-rate-calculator
ABOUT VIDEOMAKER
Founded in 1986, Videomaker was the first magazine to introduce video to a mass, non-industry audience. Though the video field has exploded dramatically in recent years, Videomaker still remains dedicated to its core mission: To encourage aspiring directors and documentarians to use video technology to find their own voices and tell their own stories. Today, Videomaker is more than just a magazine. It's grown to also become a robust online community, offering a full line of training DVDs, videos-on-demand and a series of webinars and hands-on video training workshops. Every month, more than 50,000 professional videographers, independent filmmakers, and home video hobbyists turn to Videomaker to get the latest video scoops.