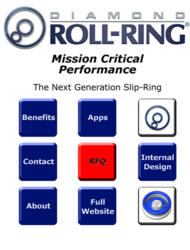 "It is a very cool easy to use website!"
Engineering Manager
(PRWEB) November 20, 2012
The Diamond Roll-Ring® mobile website's home page is the first place to appreciate the difference between most other mobile sites which are just very small versions of their full version website. The Roll-Ring® mobile website home page was created using buttons much like a familiar phone interface. Each button is labeled to quickly direct users to find the best and fastest answer to their question. The buttons are a combination of short words or graphics designed to easily navigate away from the home page to the page of interest. The home page also includes an animated graphic of the Roll-Ring® in action to provide viewers with an idea of how the product internals operate.
The pages that back up the home page are similarly populated with easy to use buttons. The Apps or Applications page showcases six different applications where Roll-Rings® were chosen over slip-rings for the maintenance free benefit of the Roll-Ring® solution. For example, the Mobile Artillery button takes smart phone users to the page that covers the Mandus Group's Hawkeye 105mm Weapon System with an integrated Roll-Ring®. The page provides a brief synopsis in PAR format, problem, action and resolution, including pictures of the Hawkeye system and installed Roll-Ring as well as an embedded video of the weapon system in action. The format was chosen specifically for mobile users to be easily readable with suitably sized font, a quick succinct read and with some great video suitable for showing a room full of Engineers.
To tie the mobile website together with a product and brand awareness effort, hand held Roll-Ring® demos were produced which include a QR code on the back of each one. When scanned by a smart phone the QR code launches the new Roll-Ring® mobile website. The hand held demo has a clean design with a glass cover enabling first hand inspection of just exactly how Roll-Rings® work to provide their maintenance free benefit as compared to slip-rings. The mobile website home page even includes a button with an icon of the hand held demo. This button launches a page that explains the design details of the demo as well as crediting some of the numerous New England suppliers that enable rapid product development and production of Roll-Ring® units.
In time the mobile site will be updated with other military and aerospace applications that have chosen maintenance-free Roll-Rings® over slip-rings. At present Diamond Roll-Ring® is developing prototypes for helicopters, weather radar systems, commercial jets, naval radar systems as well as upgrading designs for expanded capability artillery systems and air traffic control radar systems. Air Traffic Control Roll-Rings® are built in partnership with Diamond Antenna & Microwave as the Roll-Rings® are integrated with their microwave rotary joints. Roll-Rings® will be assembled in Europe into microwave rotary joints built by AML Microtechnique Lorraine S.A, of Metz, France who will sell them through Diamond Antenna Europe BVBA.
About
Diamond-Roltran, LLC provides the proven Roll-Ring® rolling electrical contact solution to replace slip rings for rotary power, signal and data transfer requirements for mission critical applications the world over. Diamond-Roltran supplies its maintenance-free mission critical Roll-Rings® directly to military and aerospace customers worldwide and supplies Roll-Rings® integrated into rotary couplers for microwave antenna applications through Diamond Antenna & Microwave and now Diamond Antenna Europe BVBA. http://www.diamondroll-ring.com
AML Microtechnique is a manufacturer of high precision components and complex mechanical structures for military, aeronautical and space applications, using advanced technologies to include high-speed machining, induction and salts bath brazing. Founded in 1972, AML has established top quality and reliability ratings in support of numerous prime contractors and various important programs. AML is located in Metz, France, http://www.aml-microtec.com
Diamond Antenna and Microwave Corporation is a leader in the design and manufacture of microwave rotary joints and next-generation slip rings used for power and signal transfer in rotary antenna applications of radar and satcom. Technology enhancements from Diamond include the patented compressive choke module with unsurpassed channel isolation and Mode S compliance in air traffic control applications as well as Roll-Rings® which offer maintenance-free performance in low frequency signal and power transfer. Diamond is located in Littleton, Massachusetts in the United States, http://www.diamondantenna.com