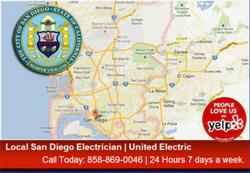 United Plumbing Heating Air & Electric. One Call Does it All
San Diego, CA (PRWEB) November 21, 2012
Thanksgiving is just around the corner and the folks at United Plumbing Heating Air Electric want to make sure you have a fun-filled yet safe holiday season. In addition to the tips featured below, United Electric is kicking off its holiday coupon initiative. Save up to 20 percent on your electrical project or repairs. It's our way of saying "thanks" for selecting United Plumbing Heating Air & Electric as your local, trusted, and affordable San Diego electrician.
Turkey Day Tips
Love and laughter is in the air as thanksgiving officially marks the beginning of our winter holiday season! However, the holiday season also means Christmas lights, turkey fryers, and a hefty electric bill! Keep your family safe by incorporating some of these electrical safety tips from your local electrician in San Diego at United Plumbing Heating Air Electric.
1. Learn How to Thaw Turkey
Before you start cooking the turkey, you have to make sure it is thawed out first. Turkeys that are frozen and placed in boiling hot oil can be a recipe-for- disaster, by bouncing oil in different directions, eventually causing a fire.
2. Watch Oil Temperature
If you are using a turkey fryer, make sure you have a thermometer on hand to regulate the temperature of the turkey and the oil it's cooking in. Deep fryers don't have thermostats, so you will have to control the temperature accordingly to avoid the possibility of overheating and combustion.
3. Don't Over Cook Your Bird
The official recommendation from the USDA is to set your oven's temperature to 325 degrees. You will have to take the size of the turkey into consideration, but you'll generally roast it from 2 to 5 hours. Don't set your oven's temperature any higher in an effort to cook your bird faster. This will only result in an overcooked, dry, and unsatisfied thanksgiving!
Customers that need a local and affordable electrician in San Diego right away can call our customer service line at 858-869-0046. Happy thanksgiving from United Plumbing Heating Air & Electric! Have a fun and safe holiday season and remember our local San Diego electricians are standing by to address any of your concerns!
United Plumbing Heating Air & Electric is the leading local electrical repair specialist in San Diego. With over 40 years of local experience, United Plumbing Heating Air & Electric offers exceptional services at affordable rates. United Plumbing Heating Air & Electric San Diego is one of the only plumbing heating air and electric companies that offers emergency services 24/7 everyday of the year.
Website: http://www.localunitedservices.com
Toll Free: 1-800-233-1950
Service Line: (858) 869-0046