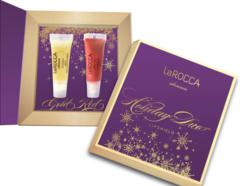 Los Angeles, CA (PRWEB) November 21, 2012
Discover our newest holiday collection!
Get the perfect Red and Gold lips with our exclusive cellular gold complex stimulates cell regeneration, delivering active ingredients to the skins deepest layer for supreme results.
*Helps protect against germs and bacteria with exotic fruit extracts
*Deeply moisturizes and nourish
*Offers a natural SPF 8 with micronized zinc
*Glides on smoothly enhances fullness of lips
Our yummy ingredients include:
hyaluronic acid mangosteen extract, camu camu, sea buckthorn pulp oil, l-arginine
LaRocca Skincare's Lip Shield Holiday Duo
Lips are dressed in sparkling gold and holiday red with two limited edition ultra-glosses.
Wear them alone or together for a little pop of glamour.
Gold - The a sheer gold shimmer
Red - The perfect matte red
The Perfect Stocking Stuffer
To learn more, visit: http://www.laroccaskincare.com
About Laura: Laura LaRocca has established herself as an irrefutable force in the beauty industry. Formally Co-founder of the ICONIC brand DuWop Cosmetics under Laura's leadership, the company grew to be a $15 million worldwide brand. Niche products such as Lip Venom, the first topical lip plumper on the market, acquired a cult-like phenomenon. After ten years of cultivating and accomplishing her dream at DuWop, Laura created LaRocca