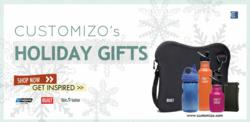 Chicago, IL (PRWEB) November 21, 2012
Izo presents its Company Gifting Guide for the holiday season. The Guide features customizable apparel and products perfect for employees and business partners alike. Gifts customized with the company logo show the holiday spirit while seizing an opportunity for increasing brand exposure.
Customizo.com assists with brand exposure by providing gift options that recipients will use time and again, from top brands like Nike, Adidas, Nalgene, Klean Kanteen, and Built NY. High quality embellishments ensure that the gift stays looking sharp throughout the life of the product. Office-oriented gifts like iPhone covers and laptop sleeves are perfect as company gifts, while embroidered golf shirts celebrate the leisure side of business.
Both Black Friday and Cyber Monday present an opportunity to tackle company gifting, as hundreds of items in Customizo's product catalog will be offered at 25% off through social media promotions on both days. Interested parties are strongly encouraged to connect with Customizo via Facebook, Twitter, LinkedIn, and/or Pinterest.
Izo's brand management team provides invaluable expertise to businesses looking for assistance ordering custom company gifts this season. The team's product knowledge and experience contribute to a comfortably guided shopping experience resulting in chic, classy company gifts.
About Customizo and Izo Brands: With Customizo, Groupizo and Snapizo, Izo is knitting the framework for the future of e-commerce with a multi-faceted set of innovative product customization and design tools, a unique group collaboration interface, and mobile media distribution applications. Izo's mission is to be the most customer-centric, creative, and innovative company in the custom apparel and promotional products industries.