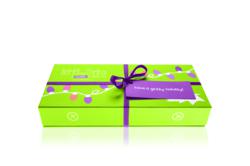 littleBits is a platform that enables people to bring their creativity to life.
New York, NY (PRWEB) November 20, 2012
This holiday season, littleBits challenges children of all ages to create their own electronic toys and gadgets. The open source hardware company today unveils its Holiday Kit, adding to its award-winning line of electronic building blocks -- featuring various littleBits modules with instructions for making holiday ornaments and decorations that beep, buzz, twinkle and more.
littleBits also launches "What Are You Making for the Holidays?", a call to all inventors to submit sketches of their dream holiday projects. littleBits will post the sketches on http://littlebits.cc, pick the three most imaginative ones and send the winners all the Bits they need to make them a reality.
Last holiday season, households spent more than $600 on average on buying gifts. littleBits founder Ayah Bdeir aims to counter this consumer culture by putting creative tools, not products, in the gift box. "Often, marketing departments in large companies decide on the hot new holiday gadgets, and we engage in prescribed interactions that they design," Bdeir said. "littleBits turns this trend on its head. The product is no longer the goal -- littleBits is a platform that enables people to bring their creativity to life."
littleBits are electronic building blocks -- each with a simple function such as light, power or sound -- that snap together with small magnets to enable anyone to create interactive projects in seconds, from blenders to bubble-making machines to pressure-controlled helicopters. Using littleBits requires no background in science or engineering.
"Students who work with littleBits have a leg up in this 21st century of technology," said Brian O'Reilly of New Jersey, whose daughter has used littleBits to make her own electronics projects, including a "feather canon" for her eighth-grade Science class. "Her classmates were completely intrigued, and got out of their seats to see how it worked. They chanted 'Feathers!' as someone turned on the fans and made the feathers levitate."
"What was surprising to me was that, out of the 100 students in her class, Mary was the only one who opted to make something," added O'Reilly. "The rest of her classmates chose to write a report instead. It was an invaluable educational experience for Mary, and littleBits played a huge role in making it happen."
Today littleBits was named a winner of the Parent Tested Parent Approved™ Awards, having also been named in Dr. Toy's 10 Best Educational Products and 100 Best Children's Products for 2012; the Best Toys Guide's Holiday Hot Toys List, Best Toys for 2012 and Best Tech Toys for 2012; and the National Parenting Publications Awards. littleBits was also endorsed by the International Child Art Foundation, and won the Educator's Choice Award at the 2012 NYC Maker Faire.
The 2012 Holiday Kit (US$49) is now available for pre-order at http://shop.littlebits.com, in addition to the latest version (V0.3) of the company's flagship Starter Kit and the larger Extended Kit.
About littleBits
Make something that does something! littleBits are electronic building blocks that snap together with small magnets to enable children and adults to create their own electronics in seconds. Founded by MIT Media Lab graduate and TED Senior Fellow Ayah Bdeir, littleBits wants to make learning about electronics more fun and accessible to spark the world's next generation of inventors. littleBits is open source so that anyone can view, download and share designs and even make their own "littleBits." Visit http://littlebits.cc to learn more.