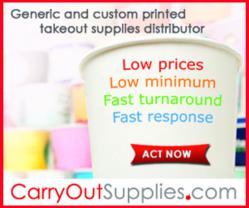 For the low prices you pay, you simply get the highest quality at CarryOutSupplies.com.
City of Industry, CA (PRWEB) November 20, 2012
In the first stage of its major transition to an all purpose, one-stop shop for takeout supplies, CarryOutSupplies.com (COS) announces that it has secured national distribution of Solo products. The plan is to expand all COS products' distribution nationwide, to allow for cheaper shipping and faster delivery.
Solo, the first name in disposable cups and other takeout supplies, is a name that businesses and consumers have come to know and trust as they provide the highest quality in paper, plastic and foam containers. Since they are considered the standard in the business, owners and operators are able to sit back and relax, knowing that the products provided to them are made from the best materials in the strictest quality-controlled environment.
CarryOutSupplies.com is offering low online prices for all Solo products, starting with the popular Solo paper cups. More Solo products as well as other excellent national brands will be added to our online shopping website in the immediate future. Customers can also contact our experienced team for assistance on carryout products.
"We have done extensive market research to make sure that our prices for Solo cups and our many other products are the lowest you can find online. For the low prices you pay, you simply get the highest quality at CarryOutSupplies.com." says Waylon Huang, VP of Operations at CarryOutSupplies.com.
CarryOutSupplies.com also has extensive capabilities to provide custom printed carryout supplies for many types of disposable takeout supplies, such as frozen yogurt cups, paper ice cream containers, paper coffee cups, paper soda cups, plastic cups, takeout containers, coffee cup sleeves, and custom plastic spoons. More items will be added to its customizable catalog in the months to come.
"Custom-printed takeout supplies have always been our bread and butter. Because of our close relationship to many manufacturers, and our extensive client base, we are able to provide custom-printed restaurant supplies at very low pricing, with a low minimum, fast response, and quick turnaround. Our niche goes well with the surplus of takeout supplies we are adding to our product- lines in order to truly become a one-stop shop for all your takeout supply needs." Mr. Huang further added.
Coffee shops, delis and food-service businesses of all sizes – from mom-and-pop shops to large franchises – can learn more about CarryOutSupplies.com's selection, features and pricing by visiting the company's website. They can also be contacted by calling 888-982-1862 Monday through Friday, from 9am to 6pm (PT).
About CarryOutSupplies.com
CarryOutSupplies.com, the leader in paper and plastic disposable takeout supplies, is dedicated to offering quality products, low prices and reliable customer service. The company started serving the local marketplace in 2004 and expanded its operations in 2007 to serve nationwide demands. Throughout its history, the company has experienced growth every year by maintaining and increasing a loyal clientele, and offering competitive prices and convenience with its free custom print service for custom paper cups and custom plastic cups. Learn more at CarryOutSupplies.com.