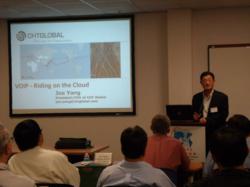 San Jose, California (PRWEB) November 19, 2012
CHT Global President and CEO Joe Yang was a keynote speaker at a recent 2012 Chinese American Semiconductor Professional Association (CASPA) seminar. CASPA is a non-profit professional semiconductor organization seeking to help CASPA members facilitate greater business expansion, gain industry knowledge, and offers networking opportunities. This seminar's objective was to promote technology trends in the Silicon Valley such as cloud computing and VoIP. Approximately 30-40 participants attended this event.
As the future of telephone usage moves from traditional landline to VoIP networks, customer's main concern is voice quality and reliability. The need for superb voice quality that traditional landlines have continually provided has not convinced some mission critical businesses to convert just yet. The use of VoIP over public Internet network will not only downgrade the voice quality due to traffic congestion and internet bandwidth, but also lacks the reliability and data protection needed for enterprise communications. Mr. Joe Yang explained that telecom carriers can provide users with the reliability needed while maintaining voice quality using the MPLS-VPN network. MPLS-VPN can provide the call quality needed because it is a closed private network framework, thus avoiding issues such as packet loss and other network congestion problems typically associated with using the open Internet. In addition, MPLS-VPN is a unified, managed network that utilizes QoS and CoS to intelligently allocate voice traffic when needed.
CHT Global currently hosts two VoIP solutions for its customer base: Net2VIP Plus+ for enterprises, and JustConnect! for residential users, small businesses, and remote workers. Mr. Yang explained that CHT Global's VoIP services are specifically designed to maximize customer experience and save cost. By utilizing CHT Global's closed MPLS-VPN, the risk of hacker attacks and fraudulent calls that could disrupt communication is evaded. Call quality is also maintained regardless of the distance due to the carrier's vast network coverage. At the end of the event, participants interested in CHT Global's service took home product brochures and received CHT Global's promotional gifts.
Net2VIP Plus+
Net2VIP Plus+ is CHT Global's latest solution to provide voice and data to enterprise customers. By integrating voice and data on the same circuit, small businesses and enterprise customers will have the flexibility to choose bandwidth speeds from single T1, bonded T1 or fiber. CHT Global will ensure that voice quality is guaranteed with optimized bandwidth utilization to save customers up to 50% on regular telecommunications expenses.
JustConnect!
JustConnect! is a Voice over Internet Protocol or VoIP device utilizing customer's existing internet to provide telephone service. CHT Global's VoIP service and other VoIP service providers differ in voice quality. Many VoIP services utilizes customer's broadband internet to route outbound calls to the local voice infrastructure through the internet cloud. Where CHT Global differs from VoIP service provider is in the last mile – from local voice infrastructure to the calling destination. CHT Global uses traditional PSTN/T1 telephone circuit to provide long distance and international calls for guaranteed quality of service. Without forfeiting voice quality, CHT Global is capable of providing value-added features perfect for small businesses or residential customers. In addition, ease of device portability allows customers to make and receive phone calls while keeping their existing telephone number.
About CHT Global
CHT Global (Chunghwa Telecom Global, Inc.) is a global telecommunication solutions provider. As the wholly owned U.S. subsidiary of Taiwan's largest telecom, Chunghwa Telecom Co., LTD. (NYSE: CHT), CHT Global has helped numerous multinational enterprises achieve their targeted goals while reducing customer side complexity by providing industry leading multi-site network solutions through its global backbone infrastructure and world-class service. For more information, please visit http://www.chtglobal.com. To see more pictures from the event, visit our Facebook page.
For More Information Contact:
Jackie Chu
Marketing Assistant
CHT Global (Chunghwa Telecom Global, Inc)
jackie.chu(at)chtglobal(dot)com
1-408-454-1687