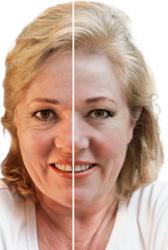 Vialox® works in a similar fashion to Botox®
Anaheim, California (PRWEB) November 20, 2012
Ageless Derma has devised a formula to smooth facial wrinkles, especially Crow's feet, utilizing a Botox® (botulinum toxin)-like pentapeptide in their Stem Cell and Peptide Anti Wrinkle Cream. Ageless Derma has always been at the forefront of the latest anti-aging technologies and biological cosmetic discoveries. The company has now accelerated to new heights of age-defying solutions, adding Vialox® Powder (Pentapeptide-3) to its group of anti aging skin care products.
Vialox® Powder was developed by scientists at PentaPharm, a pharmaceutical research company based in Switzerland. This exciting new peptide that is included in Ageless Derma's Stem Cell and Peptide Anti Wrinkle Cream works by relaxing facial muscle cells.
Vialox® Powder blocks the contraction of muscles. The peptide prevents sodium ions from being discharged, causing a stoppage of electrical charges to your skin cells, preventing wrinkles from appearing in the first place. It is the electrical charge to your skin (because of repetitive expressions) that will cause a wrinkle to form. Vialox® works in a similar fashion to Botox®, by relaxing muscle cell contraction. However, with Ageless Derma's Anti Wrinkle Cream, there are no injections to endure—this is a cream that will produce similar anti-wrinkling effects without any pain or discomfort.
Ageless Derma integrated the use of Vialox® Powder in its cream because of its unique potency to fight wrinkles in a manner closely related to Botox®. Scientific research leading to the development of Ageless Derma's anti-wrinkle cream has shown that, with the addition of Vialox® Powder to its cream, wrinkles can be reduced by nearly 60% overall. Clinical studies have proven how well Ageless Derma's anti-wrinkle cream works, as a firming cream and a wrinkle cream.
In a paper published in Dermatologic Therapy1, the authors state that Vialox® can ". . mimic the effects of botulinum toxin injections." The report goes on to verify that Vialox® acts in a similar manner as tubocurarine, or curare, a substance that also works on relaxing the muscles, in fact, keeping the muscles (or wrinkles) from effectively contracting.
Ageless Derma has taken its cue to include Vialox® Powder in its best-selling Stem Cell and Peptide Anti Wrinkle Cream, which is also a moisturizer cream. The clinical studies performed on Vialox® prove how highly effective it is at decreasing wrinkles. In a clinical study conducted by PentaPharm, volunteers (women aged 30-60) applied the substance twice a day to one half of the face for 28 days. It was found that Vialox® improved the subjects' wrinkles, specifically in this instance, Crow's feet, by almost 50% in these volunteers.
Because of these promising and clinically proven results, Ageless Derma has developed an effective Anti Wrinkle Cream that works to reduce and prevent wrinkles. By integrating Vialox® Powder with the other active ingredients in its anti-aging product, Ageless Derma has now produced an alternative to Botox® for the reduction of wrinkles.