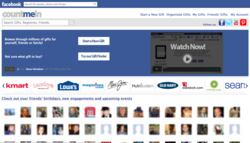 By giving people an easy way to collaborate on gifts, we've created a genuine 'social gifting' platform that eliminates guesswork, so recipients get what they really want.
Toronto, Ontario (PRWEB) November 20, 2012
Today, CountMeIn officially launches its collaborative gifting platform on Facebook, which enables users to create gifts for themselves or for others, promote those gifts via social media to friends and family, and users can then "chip in" towards the purchase of those gifts.
Following a successful beta run, CountMeIn is now officially launching with the full-blown platform; CountMeIn has introduced functionality allowing Pinterest users to "pin" a gift or registry, so that friends and family can contribute towards its purchase. CountMeIn has also added over one 100,000 charitable organizations to it charitable gifts offering for those users who wish to make charitable donations to the charity of their choice in lieu of an actual gift.
"By giving people an easy way to collaborate on gifts, we've created a genuine 'social gifting' platform that eliminates guesswork, so recipients get what they really want. It also provides an easy-to-use community tool for group gifts. It's a simple solution that solves the problem of ineffective "wish lists"," said Jeff Saul, CEO, CountMeIn. "Our flexible platform makes it easy for friends and family to chip in toward the purchase of a product or service – from a TV to a trip to Mexico to a charitable donation."
For shoppers, CountMeIn's "mall" includes millions of retail products from leading brands, bringing users a vast assortment of categories including electronics, furniture, luxury items, entertainment (400,000 music, movie and gaming titles), sports memorabilia (over 400,000 options), flat-rate travel packages (over 240 destinations), specialty gift baskets and gift cards from over 180 retailers.
CountMeIn cleverly locates the"right" gifts by generaging product suggestions based on the "likes" and Interests of a gift recipient. The true power of CountMeIn's platform is that it connects friends, families and colleagues across the globe with a collaborative expereience for puchasing gifts and creating gift registries from multiple retailers.
Here are the ways shoppers can buy and collaborate on CountMeIn:

Buy Now: Consumers have the ability to buy a product directly without the need for contribution. This provides a very powerful tool as retailers can have consumers collaborate on a product or buy it directly without worry of a consumer leaving the retailer's Facebook fan page.
Organize a Gift: Consumers can organize a gift for themselves or a friend by clicking on the "Start a New Gift" link. CountMeIn's products can be searched by retailer, category and/or keyword.
Promote to a Friend: By clicking on the "Promote" link, users may forward information about a specific product to their friends in order to invite them to contribute.
Friends' Gifts: Users will have the ability to watch their Friends' gifting activities on an item prior to submitting their own contribution. They will also receive status updates that indicate when a gift is fulfilled and/or being promoted.
For retailers, CountMeIn's collaborative enterprise solution is a fully integrated ecommerce platform. CMI's solution allows brands to delploy branded solutions levereaging all their current products into CountMeIn's platform to create web and mobile storefronts. The process has been simplied by CountMeIn to easily allow retailers to upload their entire product catalogues with very little effort. While benefiting from built-in shopper traffic and pre and post-sale data, retailers can also leverage CountMeIn's full suite of tools such as QR codes at point-of-sale, an easy-to-use web API for incorporation into their current ecommerce environments and for the first time the ability to buy from Pinterest and share those purchases via Twitter.
To learn more about CountMeIn, please visit http://countmeinapp.com to get started.
About CountMeIn:
CountMeIn aims to assist brands and retailers in monetizing their fans and followers using an easy-to-use, all-in-one social gifting solution to increase sales and conversions by bridging the gap between contribution, sale and collaboration. For consumers, social gifting can be a fun shopping experience or mission to secure an urgently needed item. CountMeIn helps anyone to easily promote the products they want, love or need, with the added benefit of using an intuitive platform that can organize gifts for anyone across multiple platforms.
CountMeIn is privately backed by Jeff Saul (CEO), Ronen Lazar (Co-Founder), Israel Schachter (Co-Founder), Charlie Ifrah (CTO) and Jim Horvath (CFO).
Come join CountMeIn on Facebook (facebook.com/CountMeInApp) and Twitter @CountMeIn.