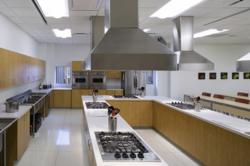 "Our partnership with the community over the years has been central to our role in educating, empowering and enlightening our neighbors about the issues of hunger and nutrition." Lynn Brantley, President and CEO of CAFB
Washington, DC (PRWEB) November 20, 2012
Capital Area Food Bank's (CAFB) new facility is complete. The larger, newly-constructed food distribution center in Northeast DC will enable CAFB to foster healthy eating while more than doubling its food storage and distribution capacity over time. The expansion is a response to the growing hunger crisis facing the Washington metro area.
The new $37 million, fully funded, food distribution center is located at 4900 Puerto Rico Avenue, NE near the food bank's former location for 21 years on Taylor Street, NE.
Turner Construction Company broke ground on the new facility in January of 2011. Turner, along with architectural firms, Epstein and McDonald Williams Banks and development manager, the Jair Lynch Development Partners, spent the past year and a half renovating a 26,630 SF office portion of an existing building and constructing a new 96,630 SF warehouse.
The project is pursuing LEED Silver Certification through the inclusion of special features and fixtures such as energy efficient lighting; and low-flow faucets. Solar panels, funds donated by BP, will result in well over $70,000 in energy cost savings per year, thus allowing the CAFB's resources to provide greater service to the community.
The new Capital Area Food Bank is now open. "Our partnership with the community over the years has been central to our role in educating, empowering and enlightening our neighbors about the issues of hunger and nutrition. The community's continued support of the Capital Area Food Bank will go far beyond the doors of the new and improved facility as we stand behind our mission to serve others 'til no one is hungry," says Lynn Brantley, President and CEO of Capital Area Food Bank. CAFB is running its annual Thanksgiving campaign through November 30th. Bringing in the Birds with Bucks provides meals for 3900 senior citizens. To learn more about Capital Area Food Bank, visit http://capitalareafoodbank.org.
About Turner Construction Company Mid-Atlantic
Turner has received accolades as a leading builder in the Mid-Atlantic region in diverse fields of healthcare, government, interiors, bio-tech, K-12 education, commercial, hospitality, telecommunications and multi-family residential facilities. Turner's focus on service and responsiveness to client needs has led to the company's consistent growth in the regin over the past 30 years.
About Turner Construction Company
Turner is a North America-based, international construction services company. Founded in 1902 in New York City, Turner has 5,200 employees worldwide and works on 1200 projects each year, for an annual construction volume of $8 billion. As the largest general builder in the United States, Turner ranks first or second in the major market segments of the building construction field, including healthcare, education, sports, commercial, and green building. The firm is a subsidiary of HOCHTIEF, a publicly traded company, and one of the world's leading international construction service providers. For more information please visit http://www.turnerconstruction.com.
About HOCHTIEF
HOCHTIEF is one of the leading international providers of construction-related services. With more than 80,000 employees and a sales volume of EUR 23.28 billion in FY 2011, the company is represented in all the world's major markets. With its core competencies in development, building and operation, the Group delivers services for the entire life cycle of infrastructure projects, real estate and facilities. The focus of the related business activities is on four strategic areas: energy infrastructure, transportation infrastructure, major cities, and resources. With its subsidiary Leighton (HOCHTIEF share around 54 percent), the Group is market leader in Australia. In the USA, the biggest construction market in the world, HOCHTIEF is the No. 1 general builder via its subsidiary Turner and, with Group company Flatiron, ranks among the most important players in the field of transportation infrastructure construction. Because of its engagement for sustainability, HOCHTIEF has been listed in the Dow Jones Sustainability Indexes since 2006. Further information is available at http://www.hochtief.com/press.