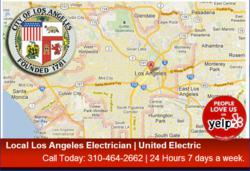 Best Local Los Angeles Electrician Company. One call does it all
Los Angeles, CA (PRWEB) November 21, 2012
Thanksgiving is rapidly approaching and the staff at United Plumbing Heating Air & Electric in Los Angeles want to ensure everyone's holiday season is filled with safe and enjoyable memories. United Plumbing Heating Air & Electric is offering consumers a special coupon, in addition to the tips that are featured below. The coupon is for up to 20 percent off on any of your electrical repair needs.
With over 30 years of experience our local Los Angeles electricians are committed community advocates, offering quality electrical repair service around the clock. United Plumbing Heating Air & Electric has been the Los Angeles electrician families have grown to depend on and trust. If you need a local emergency electrician in Los Angeles our customer care department is available 24 hours a day 7 days a week at (310) 561-4341.
This coupon is the company's way of saying "thank you" for selecting United Plumbing Heating Air & Electric as your preferred and trusted electrician in Los Angeles
Turkey Day Safety Tips
Thanksgiving is a time of giving, and that's exactly what United Plumbing Heating Air & Electric wants to do: give.
These safety tips are from the electrical professionals at United Plumbing Heating Air & Electric Los Angeles
1. Know How to Properly Thaw a Turkey
Before the turkey can be prepped and popped into the oven or dropped into the fryer, it must be completely thawed out. Frozen turkeys that are placed in hot oil will only create chaos, with oil bouncing out of the fryer in every direction, which will eventually result in a fire.
2. Keep an Eye on the Oil Temperature
Not everyone uses a traditional oven with a built-in temperature gauge to cook the Thanksgiving turkey. Deep fryers are quickly being the norm for cooking turkeys and do not come with built-in thermostats. So, if a turkey fryer is being used, it is imperative to have a thermometer in order to control the temperature of the oil as well as the turkey while its cooking. Otherwise, you may have an overcooked bird.
3. Make Sure Not to Overcook the Turkey
The USDA recommends that that a turkey is cooked at 325 degrees in the oven. While the size of the bird matters, the general cook time for the turkey at Thanksgiving is anywhere from two to five hours. Be sure not to set the oven to a higher temperature just so that the turkey will cook faster, as this will result in a dry, overcooked bird leaving Thanksgiving unsatisfying!
We sincerely hope you find these tips useful. Happy Thanksgiving!
United Plumbing Heating Air & Electric Los Angeles is a leader in local electrical installation and repair within the Los Angeles area. Offering exceptional services at affordable rates, United has more than 40 years of experience serving Los Angeles and surrounding area residents. United Plumbing Heating Air & Electric Los Angeles is one of the few plumbing, heating, air and electric companies that offer round-the-clock emergency services 24/7 even through the holiday season. For immediate service please call (310)-561-4341