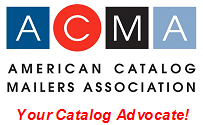 Despite much attention to online shopping, consumers still turn to their catalogs for crucial shopping guidance.
Washington, D.C. (PRWEB) November 21, 2012
In today's digital-driven shopping world, at least one tried-and-true retail shopping channel, the print catalog, retains a vital role for consumer shoppers and the companies that continue to mail catalogs. And as we enter the Holiday 2012 shopping season, consumers are eagerly perusing their catalogs as an integral part of their gift-buying process. According to a new survey, 66% of consumers say they peruse the catalogs they receive; in comparison, according to other studies, consumers look at just 42% of all advertising mail they receive.
While their actual order-placing method of choice is shifting to online, consumers continue to rely heavily on the catalogs they receive, according to a recent survey of more than 800 randomly-chosen U.S. consumers, commissioned by the American Catalog Mailers Association (ACMA) to understand consumers' opinions and behaviors surrounding catalogs. The study reveals that consumers consider catalogs — along with supermarket and retail store flyers — as the most useful and desired unsolicited mail they receive.
"Print catalogs have undergone a transition in recent years," says ACMA President & Executive Director Hamilton Davison. "Despite much attention to online shopping, consumers still turn to their catalogs for crucial shopping guidance. Catalogs are also great browsing vehicles that far exceed online methods in color accuracy, texture and product depth."
The survey revealed that 58% of respondents look at catalogs as soon as they are received, with 92% indicating they have made a purchase from the catalogs they receive. Findings from this study explain why companies continue to mail print catalogs: "Catalogs spur direct sales while also driving many shoppers to catalog websites and retail stores. They have a vital role in today's multichannel shopping world," Davison says.
Outlet For Unique Merchandise
Catalogs attract shoppers for many of the same reasons that have long made them consumer favorites. Among these is their ability to provide unique, hard-to-find merchandise not typically available in today's big box retail environment. While 26% of respondents value the unique assortment of goods catalogs offer the most, other popular reasons include ease of shopping (24%), convenience (22%), previewing future purchases (18%), and gathering product information (16%).
What's more, rural Americans, without easy access to brick-and-mortar stores, continue to rely heavily on catalogs as they have for more than 200 years.
Primary Purchase Drivers
The study largely dispels the notion of some that catalogs are becoming unnecessary in a digital world. In fact, two-thirds of the survey's respondents said that if catalogs were to become too expensive for the catalog companies to mail unsolicited, they would pro-actively request them.
More information on the survey results is available in a recently released summary. View the report, Catalogs: The Consumers' Point of View.
For additional survey data or to set up an interview with Hamilton Davison, contact Paul Miller, ACMA's Vice President & Deputy Director at 914-669-8391 or pmiller(at)catalogmailers(dot)org.
Methodology
ACMA commissioned the study to FGI Research in two rounds; one completed in January 2012 and the second round completed in November 2012. FGI conducted a telephone survey among a randomly dialed nationwide sample of consumers ages 18 and up. A total of 817 responses were collected with 86% of the respondents saying they receive catalogs in the mail. While the majority of the survey focused on those who receive catalogs, a few sections included those who do not receive catalogs. Statistical significance testing in this report was done at the 95% confidence level.
###
About ACMA: The American Catalog Mailers Association, Inc. is a Washington-based not-for-profit organization specifically created to advocate for the unique collective interests of catalog mailers in regulatory, public and administrative matters where the shared impact transcends individual company interests. ACMA participates in rulemaking and other proceedings of significance where a single collective voice increases influence and effectiveness. For information, go to http://www.catalogmailers.org.