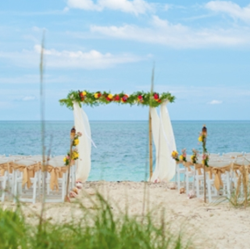 FREEPORT, Bahamas (PRWEB) November 21, 2012
Chic Bahamas Weddings, a destination wedding planner located in the Bahamas, has announced a $500 discount on all 2013 weddings booked before February 28, 2013. The wedding planner helps with weddings on 30 islands in the Bahamas, ensuring a private family affair for all wedding activities.
"The Bahamas are located just off the coast of South Florida," says event planner Marva Munroe. "Guests can enjoy direct non-stop air service from many US cities, including New York, Charlotte, Atlanta, Miami, and Fort Lauderdale."
During their stay, guests can choose from the many available activities on the islands, including snorkeling, sampling fine cuisine, golfing, casinos, shopping, or simply exploring the islands. Chic Bahamas Weddings can also help plan a relaxing trip, filled with hours of simply enjoying the beach in between wedding events.
Chic Bahamas Weddings is a full destination wedding planner that offers guests a truly unique wedding experience with beautiful wedding packages in the exotic islands of the Bahamas. The company works with each couple to create the ideal experience, from scenic beach weddings on soft sand to intimate receptions customized to the couple's preference.
In addition to working as director and designer for Chic Bahamas Weddings, Munroe is creator of Island Elegant Weddings for the Pelican Bay Hotel, which provides scenic accommodations for couples who travel from all over the world. In her role at Pelican Bay Hotel, Munroe has helped countless couples realize their dream of a scenic wedding over the past decade. Munroe previously worked for the Grand Bahama Island Tourism Board, for which she arranged island-wide events.
Chic Bahamas Weddings offers a variety of services, including:

Private gazebo weddings.
Hair and makeup assistance.
Limousine airport pickup service for the bride and groom.
Guest ferry to and from ceremony.
Assistance with acquiring all necessary required documents, including the marriage license.
Provided religious or civil officiant.
Bouquet and boutonniere.
Catering and wedding cakes.
Bottle of chilled French champagne.
Wedding entertainment, including lighting and sound and a choice of a DJ or live music for both the ceremony and the reception.
Professional photographer and/or videographer.
White padded chairs for guests. Décor.
Prior to the wedding, Chic Bahamas Weddings can help with financial planning, working with a couple's budget to plan exactly the wedding that couple can afford. Munroe will work with a couple to outline a wedding timeline and plan rehearsal dinners and provide general wedding advice. Chic Bahamas Weddings can also plan fun activities for the entire wedding party, including sunset cruises and beach picnics.
The special offer is good for new bookings only and cannot be combined with any other discount or promotion. To arrange a destination wedding and receive $500 off a wedding through Chic Bahamas Weddings, visit http://www.chicbahamasweddings.com/ or call 877.209.5543.