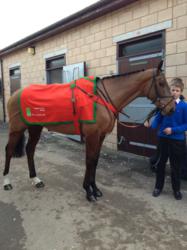 "ISL Recruitment's Perfect Candidate certainly lived up to his name in his first race"
Bristol, Gloucestershire (PRWEB UK) 21 November 2012
Perfect Candidate, the racehorse running in ISL Recruitment's colours because of their sponsorship of Fergal O'Brien Racing, gave his owners reason to continue their dreams of racecourse glory following an impressive performance in the last race of the Cheltenham Open meeting.
The National Hunt Flat Race at the Open Meeting is seen as one the most competitive "bumpers" in the pre christmas racing calendar and this years field was seen as particularly strong comprising a number of horses with impressive previous racecourse form in similar races.
Taking account Perfect Candidate's lack of racecourse experience, Grand National winning jockey Timmy Murphy kept him out of trouble at the back of the field for most of the race but he ran on strongly up the famous Cheltenham hill to finish in a prize money winning position.
The experts reporting the race noted how, in spite of showing signs of lack of experience in racing conditions, he ran on strongly over the last half mile moving from last by some way to overtake half the field. At least one professional observer picked him out as his "one to watch for the future".
Fergal O'Brien, his trainer, who had two horses in the race, said afterwards that "Both horses will come on hugely for this, and we are very excited for the future"