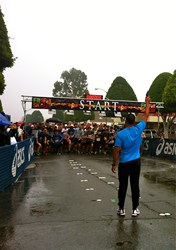 I'm really excited, really happy about the support we received from the community and the city.
Glendora, CA (PRWEB) November 20, 2012
On a damp Saturday morning and against the stunning backdrop of the San Gabriel Mountains more than 750 runners showed up to give back to the community. With participation more than doubling last year's enrollment, the Bryan Clay Foundation's 2nd Annual Fit4Fall 5K reaffirmed why it is indeed one of Southern California's premier running events.
At the end of the race a $2,500 monetary donation was presented to Cullen Elementary. With almost 12% of their entire student body taking to the streets to participate in the 5k, Cullen Elementary took home the trophy and claimed the title of Glendora's Fittest School.
In light of the holiday season, the Bryan Clay Foundation (BCF) partnered with Shepard's Pantry and New Unto Others to collect canned foods and clothing for families in need. All participants who donated a minimum of three (3) canned goods or one (1) bag of clothing (on race day) received five dollars ($5) cash back from their registration fee. For more information please visit http://www.Fit4Fall.com.
"I'm really excited and extremely happy about the support we received from the community and the city. The participation of every runner, walker, volunteer, supporter, or sponsor is what made the Fit4Fall 5K such a successful event. I'm already getting excited for next year," said Bryan Clay, who founded the BCF in 2005.
Partners supporting the BCF Fit4Fall 5K Run: ASICS, Athen's Services, Azusa Pacific University, BP America, Citrus Valley Health Partners, Frisella's Roastery, Glendora NutriShop, Oakley, Sports Chalet, The Century Council, and ZICO Coconut Water.
About the Bryan Clay Foundation:
The Bryan Clay Foundation is a national nonprofit (501c3) corporation established by Bryan Clay- a two-time Olympic Decathlon Medalist (Gold: Beijing, 2008; Silver: Athens, 2004) and "World's Greatest Athlete." The vision of the Bryan Clay Foundation is, "Building champions, changing lives." Their mission is to help mentor youth through the maturity process of their gifts and talents- to motivate and empower them with the opportunities, self-determination, and practical tools necessary to maximize their potential. Through their programs, they hope to encourage the development of character and the pursuit of physical, emotional, mental, social, and purposeful wellbeing. Their dream is to see youth become fulfilled, productive members of society who are passionate about giving back. For more information visit http://www.bryanclay.com.