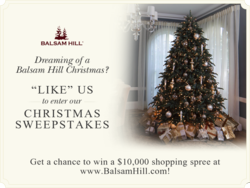 Aside from ensuring that we offer nothing but the best products and service to our customers, we also want them to have a chance to recreate a Balsam Hill Christmas in their home through this shopping spree
Redwood City, CA (PRWEB) November 23, 2012
Spreading the holiday spirit early this year, Balsam Hill, the leading online retailer of premium quality artificial Christmas trees, is giving away a $10,000 shopping spree to one lucky Facebook fan. Anyone can enter the sweepstakes by "liking" the Balsam Hill Facebook page. The contest runs from November 23 to December 12, 2012.
"Balsam Hill is passionate about delivering high-end, stunningly realistic trees and providing excellent customer service. This sweepstakes is our early, special gift to our loyal customers who inspire us to continue our innovative work," says Thomas Harman, spokesperson for Balsam Hill.
Entitled "Dreaming of a Balsam Hill Christmas," the contest is open to any fan of the Balsam Hill Facebook page. After liking the page, visitors go to the contest page and fill in the short form that appears. This entry is officially made in the participant's name. Official rules of the contest can be found on the company's Facebook page.
The lucky Facebook fan who wins the contest will receive a $10,000 shopping spree on the Balsam Hill website.
Balsam Hill is renowned for its most realistic artificial Christmas trees. The company produces high-quality trees, wreaths and garlands that are the first choice for holiday decorating for top set designers. The ultra-realistic appeal is achieved using True Needle(TM) technology, which mimics real trees with stunning realism. Each Balsam Hill tree is also meticulously designed based on a real tree and is crafted to perfection to capture its specific look and feel.
"Christmas is all about giving. As a provider of premium holiday decor, we want to be the first to spread this beloved holiday tradition this season. Aside from ensuring that we offer nothing but the best products and service to our customers, we also want them to have a chance to recreate a Balsam Hill Christmas in their home through this shopping spree," adds Harman.
The company has also launched a bloggers' contest where the winner gets to be featured on the Balsam Hill blog. In addition, it has introduced new products this season to add to the wide selection of holiday décor customers can avail.
For more information, please visit http://www.balsamhill.com.
###
About Balsam Hill
The mission of Balsam Hill is to create the highest quality artificial Christmas trees, wreaths, and garlands ever produced. The Balsam Hill team is passionate about developing realistic, premium pre lit Christmas trees for a more festive -- and convenient -- holiday season. Based in Redwood City, California, Balsam Hill designs all of its own trees, which are available exclusively online through http://www.balsamhill.com.