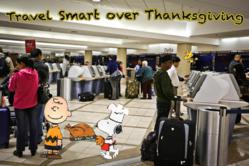 Thanksgiving doesn't just mean turkey, it also means travel!
(PRWEB) November 20, 2012
According to AAA, there will be 43.6 million travelers going over 50 miles or more this year. Yes, there will be traffic on the roads and gridlock in the airports, but Thanksgiving travel doesn't have to be all crowds and hassle. Instead, Peter Greenberg shares four of his expert secrets to upgrading the busiest travel day of the year.
At the airport: It's not just about saving money; sometimes it's about spending a little more to get more value on your dollar. And nothing needs an upgrade more than the coach flying experience. Don't worry, you don't need to splurge on real china and endless wine in business or first class. Instead, our Holiday Travel How-To series show when to upgrade to preferred or comfort seats and the additional perks that are definitely worthwhile.
Driving: If you plan it correctly, driving can save you time and money. Smart drivers know how to manage a Thanksgiving road-trip and can beat traffic, use gas efficiently, and making it to a destination safe and sound and in time for turkey.
Hotels: Even on a tight budget, you can find clean, convenient and affordable options. Don't just go for the lowest rate, instead opt for a budget chains that come with money-saving perks like free Wi-Fi, free breakfast and free parking. If it's not included, call the hotel directly to negotiate.
Travel Deals: Remember, Thanksgiving doesn't just mean turkey, it means travel--and booking future travel deals right now. This week, plan ahead and book your next vacation with the Ultimate Guide to Black Friday & Cyber Monday Travel Deals.