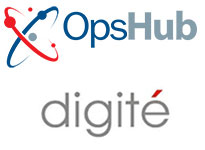 Enjoy the benefits of faster time-to-market, improved customer satisfaction, and greater regulatory compliance.
Palo Alto, CA (PRWEB) November 26, 2012
OpsHub Announces OEM Agreement with Digite—OpsHub is pleased to announce that the OpsHub Integration Manager has been licensed as an OEM product by Digite. Digite SwiftSync powered by OpsHub will be offered as integrated component of Digite's product portfolio, enabling powerful ALM and project management capabilities within a software development organization's ALM environment.
Larger software development organizations face many challenges when considering a move towards an agile development methodology, including how to coordinate the dynamic communication between many team members, communicating between geographically dispersed team members, maintaining regulatory compliance, and handling the complexities of multiple business systems found in larger software development organizations.
Together, OpsHub and Digite are providing solutions to help improve the collaboration, flexibility, and visibility required for large and geographically dispersed teams within an agile environment so that they can realize the business benefits of agile development, including higher quality software, greater customer satisfaction, and increased innovation while maintaining regulatory compliance.
"Digite SwiftSync powered by OpsHub enables our customers to connect their entire set of ALM business systems to operate as a single comprehensive system, making sure that each team member has the information they need to make better decisions," said Mahesh Singh, Sr. Vice President of Products at Digite, "and with our industry leading project management tools, development teams can use Digite to manage all of their projects, regardless of other systems in use, providing greater collaboration and a single source of visibility and management."
"OpsHub Integration Manager provides industry proven ALM integration that has helped large software development organizations in many different industries," said Sandeep Jain, President and CEO of OpsHub, "and with this OEM agreement, Digite is able to offer the same as part of their standard product portfolio, enabling their customers to enjoy the benefits of faster time-to-market, improved customer satisfaction, and greater regulatory compliance."
With growing pressure to deliver software solutions sooner while maintaining flexibility and compliance, OpsHub offers OpsHub Integration Manager, an application lifecycle management integration and migration solution that helps larger software development organizations connect their development systems to improve collaboration, compliance, and on-time delivery without impacting how team members currently work or the systems they currently use.
About Digite
Digite, Inc. is a leading provider of Lean/ Agile Application Lifecycle Management (Lean/ Agile ALM) products and solutions for the Global Delivery Model. Digité Enterprise and Swift-Kanban are Digite's flagship products that enable technology and project organizations successfully manage technology and other projects, products and applications through effective collaboration between globally distributed teams. Available in both SaaS and on-premise models, Digite provides all critical functions needed by distributed software teams in a collaborative, integrated, cloud-based platform. For more information, visit http://www.digite.com.
About OpsHub
OpsHub is a Palo Alto-based Independent Software Vendor that delivers application lifecycle management (ALM) integration, collaboration, and analytical solutions for application and software development organizations that want to improve their development efficiency, increase organizational visibility, manage regulatory compliance, improve time-to-market, and more. OpsHub supports integration with the ALM industry's leading business systems, including those from HP, Microsoft, IBM, Accept, Atlassian, Rally, Serena, and more. OpsHub delivers their on-premise and cloud-based solutions to enterprises around the globe. For more information, visit http://www.opshub.com.
For more information, press only:
Bill Creekbaum
marketing(at)opshub(dot)com
For more information about OpsHub support for more than 30 ALM systems, visit:
http://www.opshub.com