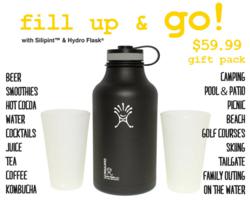 Bend, Oregon (PRWEB) November 20, 2012
Silipint™ will be offering free standard shipping to the contiguous 48 states as well as a free gift with purchase (1 blank frosted shot glass or black lid) on every order at silipint.com Friday November 23rd (Black Friday) through Monday November 26th (Cyber Monday).
This is the perfect opportunity to avoid the holiday shopping frenzy and stock up on Silipint™ Pint and Shot glasses, as well as our newly released Travel Lids, colored pints and the Fill-Up & Go Silipint™ + Hydro Flask® gift pack.
Just in time for the holidays, Silipint™ has teamed up with Hydro Flask®, another Bend, Oregon business committed to providing fun and innovative drinkware products. This collaboration created the Fill-Up & Go gift pack. The Fill-Up & Go pack includes one 18/8 stainless steel vacuum insulated Hydro Flask® 64 oz. Wide Mouth Growler in black and two frosted 100% food-grade silicone 16 oz. Silipints™. This great gift pack is now available for $59.99 at silipint.com.
About Silipint™:
Silipint™, an innovator in reusable drinkware, offers the world's first 100% food-grade silicone pint 'glass'. Because of the nature of silicone, Silipint™ products are:

Unbreakable
FDA-Approved
BPA-Free
Dishwasher-, Microwave- and Freezer-Safe
Insulate Hot & Cold
With Silipint™ drinkware, you'll never again have to worry about broken or 'sweaty' glass, cracked plastic cups, or unnecessary garbage. Not to mention, these soft but sturdy pints are way more fun than any cup you've had your hands on!
Silipint™ was born in Bend, Oregon in the summer of 2010. For Silipint's™ founder, Rick Fredland, innovation in everyday products began with introducing the pet industry to a patented safety dog collar and the first silicone travel dog bowl. Out of a desire to promote his silicone dog bowls in a fun and unique way, Rick created their human counterpart – the world's first 100% food-grade silicone pint glass. Silipint™ now offers an entire line of patent-pending, BPA-Free, silicone drinkware and accessories. Our products offer naturally safe, durable and versatile drinkware to those on-the-go, in-the wild, and on-the-wilder side. At Silipint™ we strive to create products whose form follows function while, at the same time, bringing out the FUN in functional. At Silipint™ we truly believe life is better sili. To learn more, visit http://www.silipint.com. Cheers!
For more information please email Leah Stephenson at Leah(at)silipint(dot)com or call 541-678-5044.