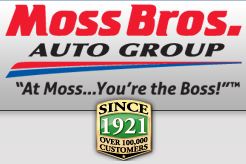 (PRWEB) November 19, 2012
Moss Bros. Auto Group, the leading Inland Empire family of auto dealerships, has announced their "Doorbuster Weekend" sale for the days following this years' Thanksgiving, November 23-25. The weekend after Thanksgiving is the unofficial beginning of the holiday shopping season and traditionally retailers and auto dealerships alike offer some of their best deals of the year. Moss Bros. has designed their massive holiday sale to kick start the holiday season with significant savings.
The "Doorbuster Weekend" sale will take place at all 8 of Moss Bros. Auto Group's auto dealerships for "3 Days Only." They have deals on over 1,500 available vehicles from all 11 of the popular manufacturers they offer, including Toyota, Honda, Chevrolet and more. In addition, this Thanksgiving time special includes new 0% APR offers for up to 72 months and discounts of more than $12,000 off MSRP. Their entire inventory can be viewed with pictures and videos via MossBrosAutoGroup.com or customers can check their local newspaper for advertised specials.
Moss Bros. Auto Group has been a staple in and around the Inland Empire for over 90 years. They have been a favorite for car buyers searching for the best Corona Honda dealers, Temecula Toyota dealers, Riverside Dodge dealers and more. Their almost century of best-in-class service to the residents of Moreno Valley has made their major holiday specials especially well known and highly sought after by consumers in the area. The Moss Bros. Auto Group is excited to roll out this year's "Doorbuster Weekend" sale in celebration of the holiday season and to offer their customers significant savings and more.
About Moss Bros. Auto Group
Since 1921, Moss Bros. Auto Group has been a leading dealership network proudly serving the residents of the Inland Empire with quality new and used vehicles. They have won many awards for excellent customer service. They currently house the largest inventory of vehicles in the Inland Empire at over 1,500 vehicles. They offer 11 manufacturers (Toyota, Honda, Chevrolet, Volkswagen, Chrysler, Buick, GMC, Jeep, Dodge, Ram, and Scion) to choose from, including many sedans, coupes, muscle cars, sports cars, trucks, SUVs, crossovers, hybrids, and electric vehicles. Since their inception, they're served over 100,000 customers from in and around the Inland Empire and beyond. They offer substantial deals on new, used, and Certified Pre-Owned vehicles, including financing offers. They have an A+ rating with the Better Business Bureau. For more information, visit http://www.mossbrosautogroup.com or follow them on Facebook or Twitter.