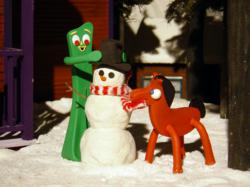 Ameba features smart, fun award-winning TV shows that kids love and parents trust.
Los Angeles (PRWEB) November 20, 2012
Ameba (http://www.amebatv.com), a pioneering multi-platform children's streaming TV provider, today announces that it has added Gumby, a classic green clay character beloved by kids the world over, to its award-winning kids' TV lineup. Ameba's addition of the Gumby Adventures show comes on the heels of Google TV naming Ameba its official "App of the Week" for children and families.
"We are excited to bring 51 episodes of pure Claymation fun from Art Clokey's original Gumby Adventures series to children across North America," says Ameba CEO and founder Tony Havelka. "We loved watching Gumby as kids, and we're sure your kids will love watching him, too. We're proud to introduce this fun-loving entertainment icon to our young viewers on every screen they watch Ameba on -- from tablets to smartphones on-the-go, to laptops and flat screens in the comfort of home."
Gumby is perhaps the best known stop motion clay character in the world. In Gumby Adventures, kids will enjoy watching Gumby and his pals run a farm full of wacky animals, including a wooly mammoth, a bee, and lots more fun characters.
Ameba's ever-expanding children's TV library is filled with educational, preschool, musical, and multilingual cartoon and live-action programming for kids ages two to 12.
Ameba features award-winning shows that kids love and parents trust, including: three-time Emmy Award-winning WordWorld; Emmy-nominated The Cat in the Hat Knows a Lot About That; CFTPA Best Children's Program BusyTown Mysteries; Emmy Award-winning Mother Goose Club; Emmy Award-winning The Zinghoppers; National Parenting Publication Award-winning and "Best Children's Album" Grammy Award-Winning The Sugar Free Allstars band; Gemini Award-nominated and Writers Guild of Canada Award-winning Ruffus the Dog; Gemini Award-nominated A World of Wonders; Kids First!-approved Parents' Choice Silver Honor-winning Ruby Skye P.I.; and Parents Choice Gold Award-winning Mustard Pancakes.
Now it's easier than ever for kids to access their favorite shows on Ameba. If you're not already an Ameba subscriber, you can sign up for a week free to check out Ameba's exciting, entertaining library of family-friendly TV shows, movies, music videos and more.
For $3.99 per month, Ameba serves up thousands of hours of engaging,
educational programming. Ameba subscribers get unlimited, 24/7 instant access to thousands of hours of enriching, age-appropriate kids TV shows on the web, Google TV, Roku, iPhone, iPad, and iPod touch, LG Smart TV, LG 3D Blu-ray player, and LG Smart TV Upgrader.
Ameba Press Contact:
For more information about Amebe, please visit http://www.amebatv.com, or contact Kim Lachance Shandrow at kim(at)amebatv(dot)com.